Welcome to the Newest Update to "Heavens Beauty – Wisdom of Jesus"
John 3:16 For God so loved the world He gave His only begotten son, that whosoever believeth in Him should not perish but have everlasting life.
Add Jesus Blood To Your Life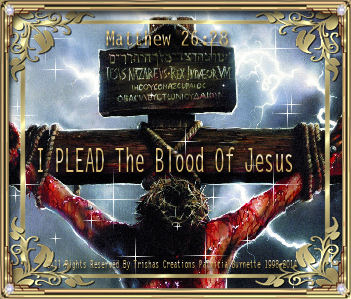 Add Jesus Blood To Your Life

Exodus 12:13
God, had instructed the Israelite's to use the blood of a lamb as a token or sign that they were not to be harmed when the angel of death passed our their homes in the old covenant. God told them to spread the blood of the lamb over their door ports, above their door so the angel of death wouldn't harm them. This way the people would be protected. God had to see the blood, He couldn't see it if they did not put it on the side posts and the tops of their doors. Since we today are under the New Covenant, which is much better than old Covenant, because the blood applied blood of Jesus is permanent (Hebrew 9:12-16)
If, you are wondering how we apply Jesus blood to our lives, our families,friends, homes, etc. We do this by believing and trusting in Jesus Christ, we just simply say in, "Faith".
"I believe the blood of Jesus is on my life and my home, cleansing me and protecting me."
We can apply "Jesus" blood everyday, many times a day to any circumstances in our life or the world its not limited.
We have a right as believes in Jesus Christ to use, apply his blood and believe in faith, to claim it, use it, apply it to anything and everything we fall inour lives.
Our husbands, wives, children, mothers, fathers, aunts, uncles, nieces, nephews, friends, co workers, bosses, homes, cars, jobs, hearts, our talents,anything and everything that God has entrusted us with we can claim the blood of Jesus our it all.
Release your faith in Jesus, claim his blood, trust in him pour it over all God has given you whether it be your health, finances, friends, family anythingjust believe don't never gives up!
Say This Prayer Our Loud
Father, I come before you in Jesus name, and I claim, and apply the blood of Jesus to my life, to all that belongs to me, and all that you have given to me. I claim the blood of Jesus on my mind, my health, my emotions, my will. I put my family, my co workers, friends and all I am and desire to be in you thank you for covering me and protecting me with and through your blood in Jesus name I pray thank you Jesus Amen, Amen!!!
Jesus 1  Jesus 2  Jesus 3  Jesus 4  Jesus 5  Jesus 6  Jesus 7  Jesus 8  Jesus 9  Jesus 10  Jesus 11  Jesus 12  Jesus 13  Jesus 14  Jesus 15  Jesus 16  Jesus 17  Jesus 18  Jesus 19
143315 179 total views, 27 1 views today
Heavens-Beauty Website Our Sister Site
Dont Forget We have a Sister "Heavns-Beauty" Website also!
It also is a Prayer Website, with lots of Information on it as well. We will be Updating it soon, even though it is done in WordPress! You can go there Anytime your heart desires! If, you like Our Christian websites Let us know and Pass them along as you go along! Click Here!