Welcome to the Newest Update to "Heavens Beauty – Wisdom of Jesus"
John 3:16 For God so loved the world He gave His only begotten son, that whosoever believeth in Him should not perish but have everlasting life.
Hell Hath No Fury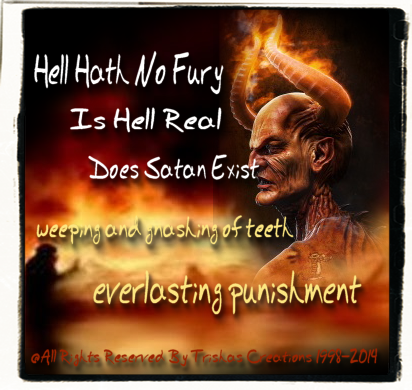 Hell Hath No Fury
Is Hell Real? Does Satan Exist? 2000
Last summer, Pope John Paul II told an audience at the Vatican that "rather than a place, hell indicates the state of those who freely and definitively separate themselves from God." In a recent cover story on hell, U.S. News & World Report reported that 64 percent of those polled believed there is a hell, but only 34 percent felt it was a real place. And where is Satan in all this? Is he real, or a symbolic representation of evil? Click here to explore the topics of good and evil, hell and Satan, and take our poll.
Hell Hath No Fury
With fire and brimstone out of fashion, modern thinking says the netherworld isn't so hot after all
The pit is prepared. The fire is made ready. The furnace is now hot, ready to receive them. The flames do now rage and glow. The glittering sword is whet, and held over them, and the pit has opened her mouth under them. . . . O sinner! Consider the fearful danger you are in.
Since long before the Puritan preacher Jonathan Edwards struck fear into the hearts of 18th-century New Englanders, the threat of hell has served as a potent incentive to refrain from evil and cling to faith. For preachers like Edwards and his spiritual heirs, the eternal stakes were frightfully clear: There was a hell to shun and a heaven to gain. Hell and its flaming torments were real.
Edwards would scarcely recognize the hell of today. After decades of near obscurity, the netherworld has taken on a new image: more of a deep funk than a pit of fire. While the traditional infernal imagery still attracts a following, modern visions of eternal perdition as a particularly unpleasant solitary confinement are beginning to emerge, suggesting that hell may not be so hot after all.
The latest round of revisionism was touched off last summer by a surprising editorial in La Civilta Cattolica, an influential Jesuit magazine with close ties to the Vatican. Hell, the magazine declared, "is not a 'place' but a 'state,' a person's 'state of being,' in which a person suffers from the deprivation of God."
A few days later, Pope John Paul II told an audience at the Vatican that "rather than a place, hell indicates the state of those who freely and definitively separate themselves from God." To describe this Godforsaken condition, the pontiff said, the Bible "uses a symbolical language" that "figuratively portrays in a 'pool of fire' those who exclude themselves from the book of life, thus meeting with a 'second death.' "
The pope's more conservative critics complained that by dousing hell's flames, the pontiff had undermined a historic biblical doctrine and surrendered a potent theological weapon in the church's struggle against evil.
"Scripture clearly speaks of hell as a physical place of fiery torment and warns us we should fear," says R. Albert Mohler, president of the Southern Baptist Theological Seminary in Louisville, Ky. For unrepentant sinners, adds Prof. Douglas Groothuis of the evangelical Denver Seminary, "separation from God may seem like freedom from a domineering spouse or parent. Why fear that?"
But taking the sting out of hell was hardly what the pope had in mind. At a time when hell's imagery is invoked more often in the nation's comics pages than from its pulpits, the pope's remarks are better understood as an attempt to retrieve and update a
long-neglected doctrine of the church and to make it available once again as a prod to piety and virtue. "In a sense," explains the Rev. Stephen Happel, interim dean of religious studies at the Catholic University of America in Washington, D.C., "the pope is telling us that we can recover some measured intelligent understanding of hell that makes sense for the 21st century."
143315 183 total views, 27 1 views today
Heavens-Beauty Website Our Sister Site
Dont Forget We have a Sister "Heavns-Beauty" Website also!
It also is a Prayer Website, with lots of Information on it as well. We will be Updating it soon, even though it is done in WordPress! You can go there Anytime your heart desires! If, you like Our Christian websites Let us know and Pass them along as you go along! Click Here!