Welcome to the Newest Update to "Heavens Beauty – Wisdom of Jesus"
John 3:16 For God so loved the world He gave His only begotten son, that whosoever believeth in Him should not perish but have everlasting life.
How Do We Pray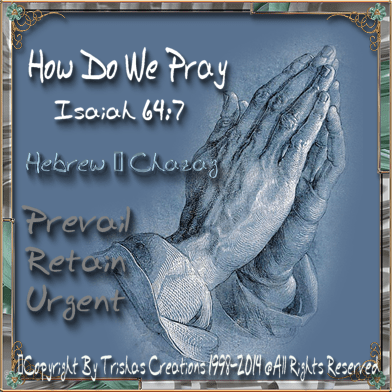 How Do We Pray
Isaiah 64:7
Hebrew – Chazag, to fasten upon, seize, be strong courageous, obstinate, to bind, restrain to conquer, catch cleave to, to be constant, continue to keep praying, force by holding on, mountain moving, maintain, play the man was mighty, prevail, retain, be urgent and strong.
All these meanings can be understood with prayer. If one would just stir themselves up in this manner refusing to be denied and if he would appropriate in every benefit of the promises and covenants of God which have been freely and abundantly given to all men, then such person would surely experience answers to prayers for the body, soul and the spiritual for himself and others.
I really thought this was interesting and thought I'd share it with you.
I know this is short, but this explains how we should pray and to continue no matter what. I hope this helps you to understand how we should pray.
143315 194 total views, 27 1 views today
Heavens-Beauty Website Our Sister Site
Dont Forget We have a Sister "Heavns-Beauty" Website also!
It also is a Prayer Website, with lots of Information on it as well. We will be Updating it soon, even though it is done in WordPress! You can go there Anytime your heart desires! If, you like Our Christian websites Let us know and Pass them along as you go along! Click Here!