Welcome to the Newest Update to "Heavens Beauty – Wisdom of Jesus"
John 3:16 For God so loved the world He gave His only begotten son, that whosoever believeth in Him should not perish but have everlasting life.
A Prophetic Decree is not Prophecy 1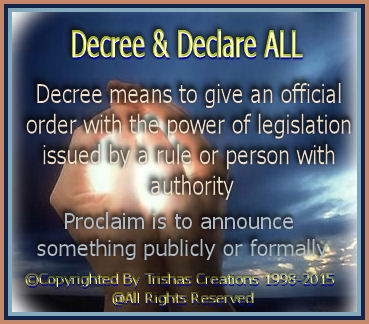 A Prophetic Decree is not Prophecy
When I did this study on "Decreeing & Declaring" I really wasn't sure what it all meant. Why? or How can you not know what it means? I'm fixing to tell you why I like to be sure what I am doing and saying before I do it.
It was like I guess 1981 – 1982 maybe, I was having a hard time, and I just wanted it to get fixed and I was so upset and distraught, I wanted Jesus to fix it. Just fix it and everything would be ok! 
Well, I wasn't as sure as I am now what "Beseech" meant back then but I sure do now. I thought I was telling the devil to leave me alone, for him to just get off me and leave me alone and just down-right leave. I'll tell you why!
Things got really bad, and I was alone laying on my bed, and as I said I just wanted things to get fixed, so all would be ok then. And, I started saying out loud "I beseech thee satan" over and over again, and all the sudden things got so eerie and cold and a evil feeling all through the house. I felt evil that I've never ever felt before in my life.I actually thought I was telling the devil to leave me alone when I actually wasn't. 
And, once I had that evil feeling around me, I immediately started telling it In Jesus Name go away, get out of here leave me alone, and all the sudden it was gone.
So, I was listening to a Christian Program I think it was Robert Tilton back then, I started learning about Decreeing & Declaring a thing!
When we Decree & Declare something we are telling the devil out loud firmly that he has no power over us and we are Covered by the Blood of Jesus and we are Decreeing & Declaring Good upon us and all that we decree & declare. It's not a prophecy it is a personal prophetic decree over ourselves.
A prophetic decree is not Prophecy— A prophetic word has life giving power. It releases faith in the person it is spoken over! A prophetic decree goes beyond a prophetic word. It is a word straight from heaven or something that is mandatory in the natural or spirit realm. I was really happy that I could do this, and the devil has to shake himself off.
I know I am not as smart as many, but I didn't want to do something which was not what God wanted me to do, as with the beseech ordeal, I thought I knew what it meant but I was wrong. So I wanted to be sure I knew it was right on what Pastor Tilton was saying.
Here is a website that also explains "Decreeing & Declaring God's Word" over our lives! 
Decree means to give an official order with the power of legislation issued by a rule or person with authority.
Declare is to begin a fierce campaign to get rid of something or start fighting in earnest for or against something.
Divine Will is to make an official order, pronouncement, or legal ruling to effect something.
Proclaim is to announce something publicly or formally.
There are 13 Pages of Ways to Decree & Declaring, some are Prayers so I hope these help you and if so send me a message!
 Page 1  Page 2  Page 3  Page 4  Page 5 Page 6 Page 7  Page 8  Page 9  Page 10 Page 11
143315 86 total views, 27 1 views today
Heavens-Beauty Website Our Sister Site
Dont Forget We have a Sister "Heavns-Beauty" Website also!
It also is a Prayer Website, with lots of Information on it as well. We will be Updating it soon, even though it is done in WordPress! You can go there Anytime your heart desires! If, you like Our Christian websites Let us know and Pass them along as you go along! Click Here!