Welcome to the Newest Update to "Heavens Beauty – Wisdom of Jesus"
John 3:16 For God so loved the world He gave His only begotten son, that whosoever believeth in Him should not perish but have everlasting life.
A Prayer of My Own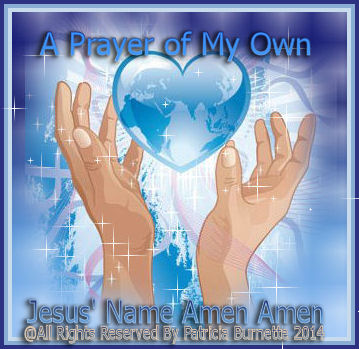 A Prayer of
My Own
Dear Father,
I come before you and Thank you for all I have that you have given me. Thank You for all your mercy and your grace. I thank you for each and everything which you have blessed me with in my life, whether it be friends, family, material things, lessons I have learned, thank you for forgiving me for things I have done or have said in my past, and all the mistakes I've made, through your forgiving me, I have learnt how to truly forgive other's who have wronged me.
Those that have lied on us, got mad at us, and they have cursed us, used us, abused us and our respect, and trust, those who have stolen from us, money and material things — we have forgiven them.
Father, I ask that you help me to always be a forgiver of all the wrongs people has done to me, even when they can't come to us and admit what they have done. The
forgiveness is already there for them, talk to them and let them know that to be totally forgiven, they have to ask for it.
I pray Father my prayer is in your will and not mine, I pray that you continue to use me in your will . I Love You Father and I thank you for everything In Jesus' Name
Amen Amen!
143315 110 total views, 27 1 views today
Heavens-Beauty Website Our Sister Site
Dont Forget We have a Sister "Heavns-Beauty" Website also!
It also is a Prayer Website, with lots of Information on it as well. We will be Updating it soon, even though it is done in WordPress! You can go there Anytime your heart desires! If, you like Our Christian websites Let us know and Pass them along as you go along! Click Here!