Welcome to the Newest Update to "Heavens Beauty – Wisdom of Jesus"
John 3:16 For God so loved the world He gave His only begotten son, that whosoever believeth in Him should not perish but have everlasting life.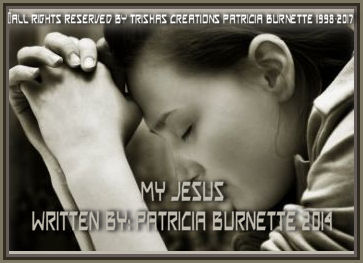 My Jesus
Written By: Patricia Burnette 2014
My Jesus, you have been there for me through thick and thin,
You have been there for me even though I was so blinded I could not see,
You have watched over me, day in and day out,
You have protected me no matter what was going on in my life,
You was still there even though I have failed many times,
I am truly sorry for all I have said and done,
I am truly sorry for all the troubles I have caused,
I am truly sorry for all the procrastinations I have done,
I am deeply sorry for all the plans you have made for me and I failed,
After, all I have done and all I have said, you never left me Jesus.
My Jesus, I know even though I didn't know how to listen to you,
I am sorry Jesus for the harsh words I have spoken to those whom cared,
I am sorry for the actions I made, and they was not pleasing towards you,
I am sorry for those things I did that caused me to feel shamed.
No matter what I have done, you still sheltered me and held me in your arms.
My Jesus, you have given me chances, upon chances,
After all the times I have failed, and walked away,
You have been there when no one ever was, and none to listen,
Things I needed to get off my mind and relieve my stress,
You Jesus gave me so, so much and I Thank you for everything.
You never gave up on me, you have given me love and compassion,
You gave me your favor and you divine blessings, gifts from above,
Thank you for making me a better person and coming into my heart,
My Jesus, help me grow more in you and Thank you for Loving me anyway,
Your divine grace and your mercy have shown me, even me you can forgive.
Father Jesus, your forgiveness is for sure as promised and I love you,
I am again so sorry for the promises I wasn't able to keep,
But, you continue to bless me and love me for who I am in you,
You are a wonderful Father, you are the light of my heart, and I Thank You
My Jesus, My Savior, My Lord, My Divine Redeemer.
@All Rights reserved By Written By: Patricia Burnette 2014
143315 137 total views, 27 1 views today
Heavens-Beauty Website Our Sister Site
Dont Forget We have a Sister "Heavns-Beauty" Website also!
It also is a Prayer Website, with lots of Information on it as well. We will be Updating it soon, even though it is done in WordPress! You can go there Anytime your heart desires! If, you like Our Christian websites Let us know and Pass them along as you go along! Click Here!