Welcome to the Newest Update to "Heavens Beauty – Wisdom of Jesus"
John 3:16 For God so loved the world He gave His only begotten son, that whosoever believeth in Him should not perish but have everlasting life.
God Wants To WOW You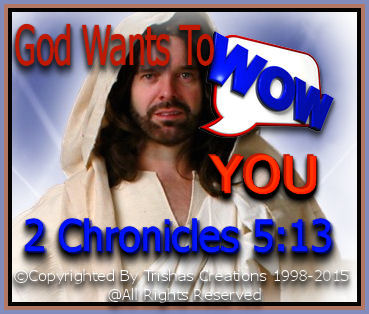 God Wants To WOW You
2 Chronicles 5:13
When, you read the Old Testament can you see God's Glory, which is visibly filled in the temple, which overwhelmed the priest to a point in which they were unable to stand?
If, we look under the New Covenant we are God's temple. 1 Corinthians 6:19, God wants so much to show His Mercy and Glory in us, through is, around us, in a dramatic way.
Just as He did in the actual built temple in Solomon's day.
God wants His Glory Manifested un our life, and so other's can see and look at us and say "Wow, What a Great God You Serve."
Because God' Power is great and His Goodness, He wants to WOW YOU with.
He wants to fill your life with His Goodness and Presence –– His "Wow of Blessings!!!"
God's goodness –– He is Faithful to fulfill each and everyone of the Promises He made to us all. But, sad thing is, so many don't or refuse to take hold of His Promises and Goodness.
2 Chronicles 6:12-15, Why, not be like a Solomon and tell other's about God's goodness and all that He has done in your life, because you will be telling other's God's Goodness & Blessings of His WOW in Your's –– WOW!!!
Psalms 65:2 / 2 Chronicles 6
Solomon crying out to God, for Him to hear his prayer –– In order for God to answer our prayers we have to believe He's answering them, He's always listening. God will never refuse to hear our prayers.
God is always waiting to hear our prayers and is always ready to answer them.
Where there is prayer , there is the Power!
143315 154 total views, 27 1 views today
Heavens-Beauty Website Our Sister Site
Dont Forget We have a Sister "Heavns-Beauty" Website also!
It also is a Prayer Website, with lots of Information on it as well. We will be Updating it soon, even though it is done in WordPress! You can go there Anytime your heart desires! If, you like Our Christian websites Let us know and Pass them along as you go along! Click Here!