Welcome to the Newest Update to "Heavens Beauty – Wisdom of Jesus"
John 3:16 For God so loved the world He gave His only begotten son, that whosoever believeth in Him should not perish but have everlasting life.
Salt Of The Earth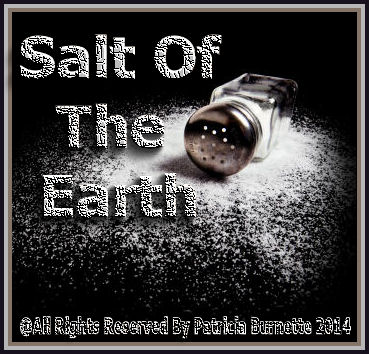 Salt Of The Earth
Matthew 5:13
Jesus tells us, about the salt of the earth, but if the salt looses it's flavor it is not good for anything.
Life is tasteless, without love, even when you show out if obligation, generosity, without sincere love it will leaves us empty.
Love represents the salt, it is the energy and flavor of our lives. Love is effort not a task, it's efforts, people can say they love someone, and deep down they come up with all kinds of excuses why they can't do for someone they say they love so much and adore.
They use them to cover a shadow of their true feelings, of why they can't or won't. This type of love is tasteless, you have to be able to show love, give love, act on love.
We are to be sprinkling salt of love everywhere we go, people we see, our family, friends. Look how Jesus showed His love for you —-He gave His life to show His love for you, and giving sincere love from yourself is giving his love to others.
Matthew 5:13 Ye are the salt of the earth: but if the salt have lost his. savour, wherewith shall it be salted? it is thenceforth good. for nothing, but to be cast out, and to be trodden under foot of men.
Jesus said, "Salt is good, but if the salt loses its flavor, how will you season it? Have salt in yourselves, and have peace with one another." Mark 9:50
He said the thief comes to kill, steal, and destroy. John 10:10 God is not the thief. God is the "Restorer" of broken lives and broken hearts.
"So dear friends, don't be surprised at the fiery trials you are going through, as if something strange were happening to you. Instead, be very glad – for these trials make you partners with Christ [and what He went through], so that you will have the wonderful joy of seeing His glory when it is revealed to all the world." (1 Peter 4:12-13)
143315 90 total views, 27 1 views today
Heavens-Beauty Website Our Sister Site
Dont Forget We have a Sister "Heavns-Beauty" Website also!
It also is a Prayer Website, with lots of Information on it as well. We will be Updating it soon, even though it is done in WordPress! You can go there Anytime your heart desires! If, you like Our Christian websites Let us know and Pass them along as you go along! Click Here!