Welcome to the Newest Update to "Heavens Beauty – Wisdom of Jesus"
John 3:16 For God so loved the world He gave His only begotten son, that whosoever believeth in Him should not perish but have everlasting life.
How to Never Fail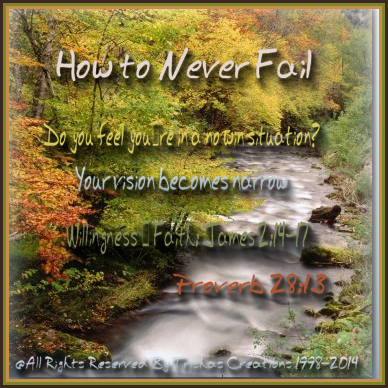 How to Never Fail
"Do you feel you're in a no win situation?"
All circumstances seem to be against you, your back is against the wall, your life seems to be going no-where and you feel like a complete failure.
"Does this sound familiar?"
Doubt, and unbelief is the worst enemy you can have inside yourself. Attitude of defeat affects the way you see your circumstances. You cry out to the Lord but the cries are cries of hopelessness, not those of faith filled expectation.
Your vision becomes narrow. Limited to their present circumstances; you're not letting God into your world. One main reason many people fail: they don't let God into their world.
People want to succeed, but since their focus is purely horizontal, like the Israelites were, they try and struggle in their own strength, only to find themselves empty and unfulfilled. Constantly under strain of staying afloat, of making it; wondering what tomorrow will bring.
"Good news", both to those who have failed and for those who haven't and want to keep from failing. "Good news", is that you can fail-proof your life!
You can keep failure out of your life by following the steps at the end of this chapter. God gave Jericho tremendous victory and they were facing their next challenge; the city of Ai. (Joshua 7-1-5).
It was small, so Joshua and his officers decided they didn't need to send the whole army against it. After al, the Lord was on their side and had promised them the land.
But they suffered a shameful defeat, even with loss of life. They fell on their faces before God dejected and depressed. God answered; there was hidden sin in the camp.
Someone had stolen some bounty that belonged to God. When they faced the heat of the battle the sin, like a weed, sprang up and choked their victory.
That sin had to be uprooted before their failure could be turned around. In the pressure of any conflict "weeds" (sins) will spring up twice as fast, unless they are uprooted immediately. We won't have a chance against Satan if there's un-confessed sin in our lives. (Proverb 28:13).
Failure will eventually strike.
"But what can you do if sin has sprung up in your life?"
The instruction manual tells us the answer to that problem:
If we confess our sins, He is faithful and just to forgive us our sins, and to cleanse us from all unrighteousness.  (1 John 1:9).
If we bring our sins to the Lord, He will cleanse us and uproot the evil (problems) that has taken root in our heart. Then it is necessary that we 'sin' no more, lest a worse thing come upon thee (John 5:14). If you don't feel the freedom to come to the Lord to be forgiven, it may be because you have never accepted Jesus as you Savior, receiving the initial complete cleansing of your sins by His blood.
That's what happens to many people, they loose their patience and become impatient. They face a lot of enthusiasm and good intention, but don't think of consulting God's word. They have faith, but if it is not built on the word of God, it will collapse before the storms like the house built on sand (Matthew 7:24-27).
God gives us a purpose and direction, but we must be willing to listen and accept  His direction for the journey. That's what God does with us. When He invites us to accept the call of salvation in Jesus Christ, He also calls us to a life of purpose and abundance.
He is more anxious to reveal that purpose than we can imagine!
Psalms 139 says: "Fearfully and wonderfully made by God, and that all the days of our lives were written before they ever took shape."
God has a perfect plan for your life, and if you seek Him with all your heart, He will let you know the strengths and abilities He has gifted you with, and how and where He wants you to invest them. He will guide you in what to plan, which goals to set for your life, which direction to follow.
He said in Psalms; "I will instruct thee and teach thee in the way which thou shalt go. I will guide thee with mine eye."
Setting goals for you life is too important a matter to be a hit or miss affair; it should be done prayerfully and diligently under the Lord's guidance. Moses began to pray and cry out to God. But instead of comforting him, God just said; "Why are you crying out to me? Tell the people to march forward, and stretch out your rod toward the sea."
When Moses did what God told him to do, the sea parted and the people crossed the sea on dry land.
Attainment of your dreams is directly related to your willingness to act on your faith (James 2:14-17). It is talking about people who love the Lord, but who had missed that one ingredient in their lives.
"Cast not away therefore your confidence which hath great recompense of reward. For ye have need of patience, that, after ye have done the will of God, ye might receive the promise." (Hebrews 10:35-36).
Notice the verb 'done'. That means you must act on your faith, in obedience to God's will as revealed in His word, the Bible. God never rewards laziness. After setting your goals under His direction, take some steps of actions or you will never get where you want to go.
Faith not followed by actions of obedience will have no results in your life. Many people fail even though a victory is there for them, because they try to do it in their own strength and intellect.
As long as you focus on the strength of the Lord, on His help, His wisdom, you can do the impossible; but the moment you start looking to yourself and acknowledging your own resources, feelings, and how the circumstances look, the victory will elude you.
He is just the same as today, as He was yesterday, He will be the same tomorrow (Hebrews 13:8).
God will guide us today and us in victory through all circumstances of life.
"Do you feel you're at a dead end in your life right now? Or do you feel you're progressing quite nicely, but want to make sure you won't take a wrong turn and find yourself in that dead end road, in the no-win situation?"
I will challenge you to keep your faith and trust focused on Jesus; follow Him.
This will take your eyes off the circumstances and change the direction of your life.
It can set you on a course of abundance and fulfillment beyond your wildest dreams, knocking failure out of your life for good!
Make sure you put God first spiritually, so you too may prosper temporally.
Ask Jesus to come into your heart and cleanse you of your sins. You don't have to clean up your life first; God will do it for you. He will give you a new heart, new desires, and eternal life.
How to never fail – Pamphlets
Scriptures: 2 Corinthians 2:14
Wealth: Deuteronomy 8:18
Children of Israel: Exodus 6:2-8
Goals/Visions: Exodus 14
Receiving the promise: Hebrews 10:35-36
Being the same: Hebrews 13:8
Willingness – Faith: James 2:14-17
Confess sins: John 1:9
Sin no more: John 5:14
Victory-Instructions: Joshua 7:1-5-9
Intentions/Faith: Matthew 7:24-27
Failure: Proverbs 28:13
Reason for: Proverbs 29:18
Instruct thee: Psalms 32:8
Pull weeds up: Psalms 66:18
Wonderfully made: Psalms 139: 14-16
143315 45 total views, 27 1 views today
Heavens-Beauty Website Our Sister Site
Dont Forget We have a Sister "Heavns-Beauty" Website also!
It also is a Prayer Website, with lots of Information on it as well. We will be Updating it soon, even though it is done in WordPress! You can go there Anytime your heart desires! If, you like Our Christian websites Let us know and Pass them along as you go along! Click Here!