Welcome to the Newest Update to "Heavens Beauty – Wisdom of Jesus"
John 3:16 For God so loved the world He gave His only begotten son, that whosoever believeth in Him should not perish but have everlasting life.
Choosing God's Will and Not Your's 3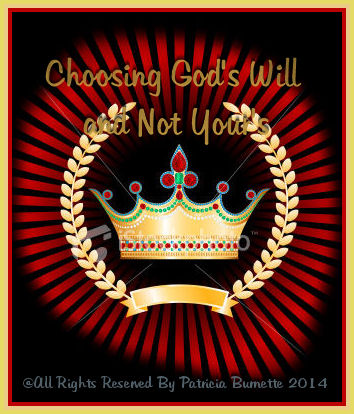 Choosing God's Will and Not Your's
Luke 22:39-42

When you pray and have faith in what you pray, do you let God know that you are praying for His will in your life, and not your own will?
It is very important, when we pray, or when God speaks to us, that we obey His will, not of our own will, but His will be done.
We all struggle in life, noone is ever exempt, and not knowing which way we need to turn, or not knowing God's will in our own life. Did, you know many people in the Bible struggled in their life, and they had problems just like we do now?
Even, Jesus struggled, when He was placed with reality of Him going to the cross, but yet Jesus chose God's will and not of His own will. Read Luke 22:39-42 for more on this topic.
Psalm 32:8 . . . The Lord says, "I will guide you along the best pathway for your life. I will advise you and watch over you." God definitely wants to help us follow the path that will be most pleasing to him, not the path that may be most pleasing to us.
1 Corinthians 14:1 . . . Let love be your highest goal. God's will is that we love others.
You just may never be asked to sacrifice anything great or even a small thing, but your faith. Ask yourself there questions:
1. How would you respond when God asks you to choose His will over what you want to do?
2. Will you be ready or will you hesitate?
God is OUR STRENGTH and doing His will, His way, is proving to Him how much we Love Him and His will, will be done!
We all have to acknowledge that "GOD is OUR Source" we cannot do anything in our own strength, and without Him, we cannot be a success at anything other than HIS Will He has for us!
143315 123 total views, 27 1 views today
Heavens-Beauty Website Our Sister Site
Dont Forget We have a Sister "Heavns-Beauty" Website also!
It also is a Prayer Website, with lots of Information on it as well. We will be Updating it soon, even though it is done in WordPress! You can go there Anytime your heart desires! If, you like Our Christian websites Let us know and Pass them along as you go along! Click Here!