Welcome to the Newest Update to "Heavens Beauty – Wisdom of Jesus"
John 3:16 For God so loved the world He gave His only begotten son, that whosoever believeth in Him should not perish but have everlasting life.
Some Fun Things to Do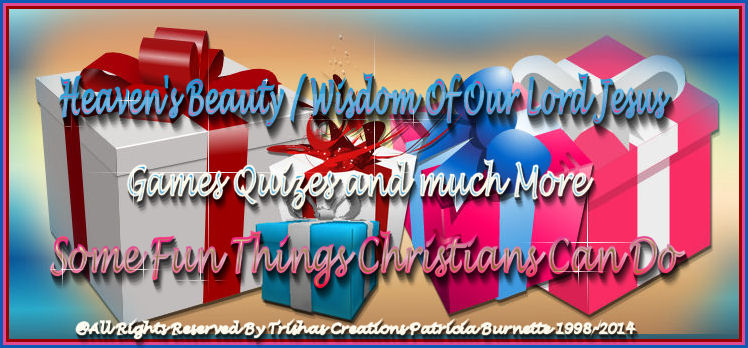 "Some Fun Things to Do"
There are many people that do not want to become Christians because they think being a Christian life is boring…. but what they don't know is…. Being a Christian is so much more fun than being a non-Christian!
Christians can have much more fun than non-Christians, because we have Jesus Christ living in us, and doing and being a Christian we can do even more to have fun!
I have listed a few things which "Christians" can do to have fun and enjoy themselves… even more than one which is not a "Christian." There are even some things here that the Adults can do to have fun I will post more when I get done updating the rest of the site as soon as time permits!
Here are some "Fun Things" to do if you want to!
I have added several things which is all Spiritual nothing less!
I hope you enjoy This Site as allot of work has went in it to be of use to you and your family and friends, I pray it blesses you and you will become to Know the Lord Jesus Christ as Your Personal Savior!
PLEASE NOTE: Most are DOWNLOADS, there are Some Websites you can go to.
Here Are some Games which One can Play or Kids can Play
We Pray that this site really makes you eager to Live for the Lord and I Pray it blesses you beyond all you and I can imagine.
God Bless You
Patricia Burnette
143315 216 total views, 27 1 views today
Heavens-Beauty Website Our Sister Site
Dont Forget We have a Sister "Heavns-Beauty" Website also!
It also is a Prayer Website, with lots of Information on it as well. We will be Updating it soon, even though it is done in WordPress! You can go there Anytime your heart desires! If, you like Our Christian websites Let us know and Pass them along as you go along! Click Here!