Welcome to the Newest Update to "Heavens Beauty – Wisdom of Jesus"
John 3:16 For God so loved the world He gave His only begotten son, that whosoever believeth in Him should not perish but have everlasting life.
God's Outrageous Blessings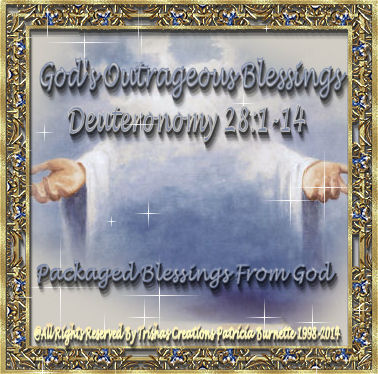 God's Outrageous Blessings
Deuteronomy 28:1
There are many people who wonder how my husband and I have what we have, and can do all that we do, and that answer is : God's Blessings! Plain and Simple!
Packaged Blessings From God
Deuteronomy 28:1-14, is conditional, Read This: "If, you will listen diligently to the voice of the Lord your God…. if you will heed the voice of the Lord your God…… if you keep the commandments of the Lord your God and walk in His ways, "then" all these blessings shall come upon you and overtake you."
Deuteronomy 28:1,2,8 —
1 If you will listen diligently to the voice of the Lord your God, being watchful to do all His commandments which I command you this day, the Lord your God will set you high above all the nations of the earth.
2 And all these blessings shall come upon you and overtake you if you heed the voice of the Lord your God.
3 Blessed shall you be in the city and blessed shall you be in the field.
4 Blessed shall be the fruit of your body and the fruit of your ground and the fruit of your beasts, the increase of your cattle and the young of your flock.
5 Blessed shall be your basket and your kneading trough.
6 Blessed shall you be when you come in and blessed shall you be when you go out.
7 The Lord shall cause your enemies who rise up against you to be defeated before your face; they shall come out against you one way and flee before you seven ways.
8 The Lord shall command the blessing upon you in your storehouse and in all that you undertake. And He will bless you in the land which the Lord your God gives you.
Blessings of being established as God's Holy People!
God's promises usually come with conditions. God is merciful, He does certain things for us, which of course we don't deserve but, He gives them. He gives them to us even when we behave badly, we can still pray for His mercy and ask God to help us.
But, anyone who wants to live in this Abundance and Outrageous Blessings, they must OBEY and Heed to God's ways and how He wants us to act.
Many want God's blessings, they want good things to happen to them, but they don't want to give up their old life style or keep God's commandments they want to do their own things, and live their life full of sinful things , they don't realize that when you turn your life over to Jesus, God will bring the Blessings to you, but you have to live by the Word of God, and the few conditions.
The reason why, many people don't see the goodness of God and His blessings, is because they don't want to loose their sinful life style, or give up their time, or anything else, but yet, they want gripe and complain about not making it, not having enough to pay this or pay that, or get this done, or that done, they never want to give God the simplest thing He asks, "Their Hearts Their Life."
If, we give God our hearts, obeying Him will automatically come! If, we choose to Obey God, and do His commandments all these Blessings will be added to them.
Whether God tells us to do something, give something, help someone we need to do it. God will give us the ability to know how to do it. He Loves us and He wants us to be filled with His Blessings!
Our part is to READ the WORD, OBEY HIM, LISTEN for HIS VOICE, and do WHAT HE WANTS US TO DO, without reservations. That's when the Blessings of God Rollllllls Right one Into Our Lives!!!!
143315 115 total views, 27 1 views today
Heavens-Beauty Website Our Sister Site
Dont Forget We have a Sister "Heavns-Beauty" Website also!
It also is a Prayer Website, with lots of Information on it as well. We will be Updating it soon, even though it is done in WordPress! You can go there Anytime your heart desires! If, you like Our Christian websites Let us know and Pass them along as you go along! Click Here!