Welcome to the Newest Update to "Heavens Beauty – Wisdom of Jesus"
John 3:16 For God so loved the world He gave His only begotten son, that whosoever believeth in Him should not perish but have everlasting life.
The Meaning of The Seed in the Parable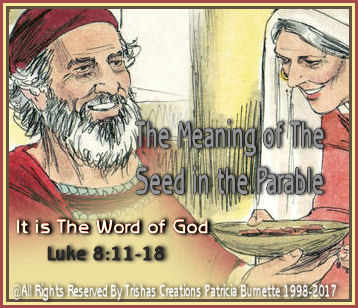 The Meaning of The Seed in the Parable
It is The Word of God
Luke 8:11-18 New Living Translation (NLT)
11 This is the meaning of the parable: The seed is God's word. 12 The seeds that fell on the footpath represent those who hear the message, only to have the devil come and take it away from their hearts and prevent them from believing and being saved. 13 The seeds on the rocky soil represent those who hear the message and receive it with joy. But since they don't have deep roots, they believe for a while, then they fall away when they face temptation. 14 The seeds that fell among the thorns represent those who hear the message, but all too quickly the message is crowded out by the cares and riches and pleasures of this life. And so they never grow into maturity. 15 And the seeds that fell on the good soil represent honest, good-hearted people who hear God's word, cling to it, and patiently produce a huge harvest.
Parable of the Lamp
16 "No one lights a lamp and then covers it with a bowl or hides it under a bed. A lamp is placed on a stand, where its light can be seen by all who enter the house. 17 For all that is secret will eventually be brought into the open, and everything that is concealed will be brought to light and made known to all.
18 "So pay attention to how you hear. To those who listen to my teaching, more understanding will be given. But for those who are not listening, even what they think they understand will be taken away from them."
143315 86 total views, 27 1 views today
Heavens-Beauty Website Our Sister Site
Dont Forget We have a Sister "Heavns-Beauty" Website also!
It also is a Prayer Website, with lots of Information on it as well. We will be Updating it soon, even though it is done in WordPress! You can go there Anytime your heart desires! If, you like Our Christian websites Let us know and Pass them along as you go along! Click Here!