Welcome to the Newest Update to "Heavens Beauty – Wisdom of Jesus"
John 3:16 For God so loved the world He gave His only begotten son, that whosoever believeth in Him should not perish but have everlasting life.
Knowing God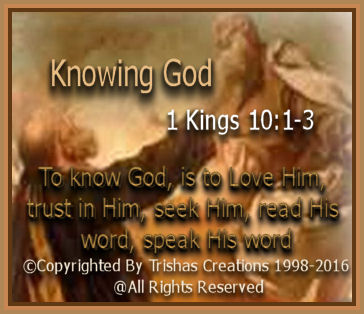 Knowing God
1 Kings 10:1-3
To know God, is to Love Him, trust in Him, seek Him, read His word, speak His word. There are so many in this world who don't know Him, some do but they have lost their sight of who God is, what He can do in their lives.
Some people who have experienced God in their lives, have given up on Him, because they are either impatient or they think being a child of God, and allowing God to become their main source and provider, that they have to live this strict life and so they give up or allow other's to deceive them into all kinds of negative thoughts, and also become resistant to God and what He is and could be in their lives. 
This is why we need to actually know God, we need to know His word know His Love for us! Those who do not really know God, they surely can be deceived. But, those that really don't know Him they have questions, they truly want to know Him, but many do not know how. 
Some will even try to make you feel as if you don't and try to confuse you with hard questions. 
Queen of Sheba, she did this to Solomon, because of his connection to the Lord, she came to prove him with some hard questions, (problems and riddles). The Bible talks about the importance and necessity of knowing God and His word –this is one of the main ways to get to know God our Father. If, there is someone in your life who asks questions about God, get in God's word and make sure you give the right answers. 
Because, we are to be prepared and know the answers to those questions which they may ask, some non believers or believers whom have fallen from God. Because that is our responsibility so no one gets left out of Gods precious grace and mercy, His divine love, His precious life He wants so much to give to all of us. 
We need to first repent of our sins, ask God to come into our lives our hearts, by asking Jesus to come into our hearts, we are to leave our sinful life we once had behind, we are to turn from our wicked ways, and have a good prosperous life in Jesus Christ. 
We should always pray –– seek Jesus' Face, His Awesome Kingdom, we are to always have faith and not allow anything or anyone take that faith away, we are to always trust in Him, and His love and grace.  
We should always make a way to read His word, study it, memorize it, listen to it, Christian music, give Him Praise for all He has done in our lives, listen to Christian teachings or tapes, we can always know that by us giving God ourselves, we will always know Him and not be confused and stumped when we are asked questions. 
Ask God, to help you and prepare ask, for wisdom, grace, favor, because if you believe you will get what you ask in prayer and just trust Him and keep your faith in Him, because He will answer!!!
143315 88 total views, 27 1 views today
Heavens-Beauty Website Our Sister Site
Dont Forget We have a Sister "Heavns-Beauty" Website also!
It also is a Prayer Website, with lots of Information on it as well. We will be Updating it soon, even though it is done in WordPress! You can go there Anytime your heart desires! If, you like Our Christian websites Let us know and Pass them along as you go along! Click Here!