Welcome to the Newest Update to "Heavens Beauty – Wisdom of Jesus"
John 3:16 For God so loved the world He gave His only begotten son, that whosoever believeth in Him should not perish but have everlasting life.
Prosperity and What It Is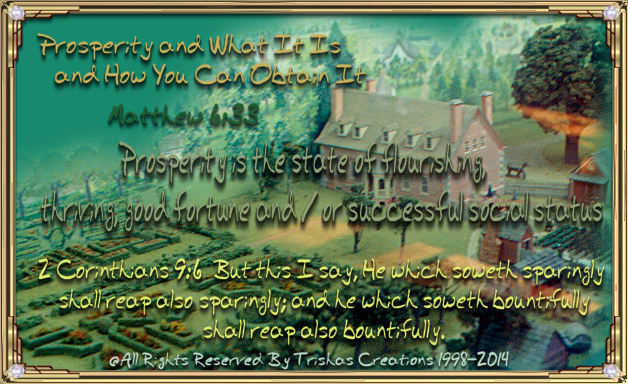 Prosperity and What It Is and How You
Can Obtain It 1/3
First off I would like to say, unless you know what God's word says about Prosperity then you cannot talk bad about those who have obtained it through God's Law and His Word. Secondly, Prosperity isn't just about money, like many believe. It can be a number of things! Yes, there are Prosperity Preachers out there that doesn't do anything but preach about getting rich and nothing else. But, if you read the Bible on God's Prosperity, you'll find out that "GOD WANTS US ALL TO PROSPER In FINANCES also, YES ah huh, don't be knocking or saying anything negative."
GOD LOVES US and He never wanted anyone to lack or do without! Gotcha! See, how this works… GOD NEVER WANTED ANYONE TO LACK FOR ANYTHING!!! He wants ALL of His children to have plenty, Yes Plenty. It can be anything a job, cars, that boat, new house, furniture, new wardrobe. He wants us all to Prosper not just in money!
But, there are people who doesn't read the Bible, and still to this day thinks God wants them to be poor and needy. This is the wrong interpretation of what God's word says.
But He also, wants His Children to Give to Him and His ministry! That means we are to store all of our treasures, and give to His kingdom, by giving to Our Churches and Honest Ministries!
This also, is NOT trying to offend anyone, it just is explaining some things that GOD wants us to experience in His goodness and blessings, that many are misunderstanding or
misinterpreting their Prosperity. But, it's all in how we use the Prosperity that GOD gives us. We are to Bless other's with what He gives us, and do good with it. If, we don't then we are either greedy or selfish. God is smart, and He's intelligent and He knows who will and who won't give to those in need!
Prosperity
is the state of flourishing, thriving, good fortune and / or successful social status. Prosperity often encompasses wealth but also includes others
factors which can be independent of wealth to varying degrees, such as happiness and health.
Matthew 6:33 (KJV)
33 But seek ye first the kingdom of God, and his righteousness; and all these things shall be added unto you.
2 Corinthians 9:6 (KJV)
6 But this I say, He which soweth sparingly shall reap also sparingly; and he which soweth bountifully shall reap also bountifully.
If, the Prosperity, which is God given is abused and not used the way God plans for us to, then I can see the problem. But, many are
bashing and talking bad about this minister or teacher and not knowing what they are doing with "God's Prosperity." God, gives to them and God can
also take away, but if they are doing God's will and doing what they should be, giving to people and churches and countries, children that are all in need, then
what they do with, what God blesses them with shouldn't be a problem for anyone.
God, sees all and He hears all !! God, knows what He's doing…. noone knows what all they do or whom they give to. But, God does, so
let God handle them if they are doing wrong.
I have seen so many here of late talk bad about "Preachers and Teachers, Ministers" who are living in prosperity. It makes me wonder just what in God's word they are missing and how they can criticize the ones which God has blessed.
Yes we are to be watchful, on the leaders we have but…. "WE ARE NOT TO JUDGE THEM" we do NOT know what they do, and it is wrong for us to judge and say what they are
doing and not doing. God is the only Judge and if they are doing wrong then they will be judged on judgment day. However, we are to Test the Spirits.
Could it be that it is of jealousy and they are turning people away from these God given God Ordained Preachers, Teachers, Ministers for their own ministry to become prospered, but not in the right way.
I have been listening to "Joel Osteen and Joyce Myers the Hinns, Copelands and a few more" for many years and not one time have I heard them say anything
against or in their own reasoning's to get money. People need to wake up and stop and think about those whom God places in other's lives and it's just not to teach about Heaven and Hell.
All of these above I mentioned, they all let the public and their partners be aware that they do help, the homeless and the children who are starving, they even help out
families when they are struggling, they help hurricane victims, as well. And, it takes faithful partners to donate by buying something or just giving out of your
heart, so they can carry GOD'S WORD around the world. How, do you think they can do that?
I agree "Heaven and Hell" do need to be talked about and taught, but just because they do not talk about it when you think they should be, doesn't make them a Bad person of God. And, just because they talk about things which maybe you need to make changes in your life on, does not cause them to be a bad person of God neither.
We are all sinners, and we all sin each and everyday, none are exempt. We all mess up some how or other, and that is why we have an advocate and covenant with the Lord
Jesus, so we can go to him and ask for forgiveness. Everybody, slips up you cannot expect even a preacher to be perfect. We are to strive to be perfect, we will never be perfect as Jesus so you need to stop trying to make everyone so perfect in your eyes because it will not happen and if all people can do is bash other's how do you think they even will want to become a Christian or strive to become a better one.
God wants us to change, for ourselves and for HIM, if we cannot change ourselves how in the world are we to be any good for God to use??? People, you need to wake up and
stop listening to people that cannot understand GODS word and it's understanding of it.
God does NOT want His people to live in lack, if we want what God wants for us, then it's our Job to Apply His Word to our lives, and YES listen to Preachers and Teachers who help us along our way, whether they have 100 Cadillac's or 200 it doesn't matter, God gave them to them, they help the hungry, the lonely, the needy, with their riches which God blessed them with. I will say however, that there are many who are just in it for the money and what they can get. But, there are many out there who are doing GOD'S Work, and God Rewards them.
Deuteronomy 8:18 (KJV)
18 But thou shalt remember the Lord thy God: for it is he that giveth thee power to get wealth, that he may establish his covenant which he sware unto thy
fathers, as it is this day.
Deuteronomy 8:17-20 (KJV)
17 And thou say in thine heart, My power and the might of mine hand hath gotten me this wealth.
18 But thou shalt remember the Lord thy God: for it is he that giveth thee power to get wealth, that he may establish his covenant which he sware unto thy
fathers, as it is this day.
19 And it shall be, if thou do at all forget the Lord thy God, and walk after other gods, and serve them, and worship them, I testify against you this day
that ye shall surely perish.
20 As the nations which the Lord destroyeth before your face, so shall ye perish; because ye would not be obedient unto the voice of the Lord your God.
Deuteronomy 15:10
(KJV)
10 Thou shalt surely give him, and thine heart shall not be grieved when thou givest unto him: because that for this thing the Lord thy God shall bless thee
in all thy works, and in all that thou puttest thine hand unto.
In a way that is like telling God, that "He isn't worthy of blessing His people with Riches and Blessings beyond what they can handle or see." Believe me GOD knows what
He is doing.
If, they didn't teach on how we should act and how we should treat other's and how to apply God's word into our lives and how we can learn to be a more Bold in Christ and be able to bring other's to Him, and how we can take our circumstances and apply them to how we were or are today, we just would be acting just any ole way and expect to get into heaven.
People, need to know how they can apply God's word to their lives, to help them along their way on how they can know that certain things we go through or how other's treat us, how we can apply their experiences to our lives and what is in line with God's word. I have NOT yet seen or heard any of these  people say or do anything which doesn't line
up with God's word.
Some, can misunderstand something one says, and make it into something which is just totally out of reach which what they actually meant. This happens even when you are texting someone or talking to them over the phone, something is always being construed into something that never was.
Prosperity, is applying God's word to our lives and living it, walking it, talking it, giving in to it, reading in to it, listening to it, sharing it……..God wants us all
to learn how to live by what His word says, so He can Prosper US, you, them, everyone.
Psalm 34:8-10 (KJV)
8 O taste and see that the Lord is good: blessed is the man that trusteth in him.
9 O fear the Lord, ye his saints: for there is no want to them that fear him.
10 The young lions do lack, and suffer hunger: but they that seek the Lord shall not want any good thing.
God wants us to be in contentment, He wants us to all prosper, He wants us to never want for anything, He wants to Open the Heavens Doors and pour down Blessings from
Heaven. These preachers who teach this are not doing anything wrong, they are doing and teaching what God wants them to.
Job 36:11 –
If they obey and serve him, they shall spend their days in prosperity, and their years in pleasures.
Job 22:21 –
Acquaint now thyself with him, and be at peace: thereby good shall come unto thee.
Deuteronomy
28:1-14
1 And it shall come to pass, if thou shalt hearken diligently unto the voice of the LORD thy God, to observe and to do all his commandments which I command thee this
day, that the LORD thy God will set thee on high above all nations of the earth:
2 And all these blessings shall come on thee, and overtake thee, if thou shalt hearken unto the voice of the LORD thy God.
3 Blessed shalt thou be in the city, and blessed shalt thou be in the field.
4 Blessed shall bethe fruit of thy body, and the fruit of thy ground, and the fruit of thy cattle,the increase of thy kine, and the flocks of thy sheep.
5 Blessed shall be thy basket and thy store.
6 Blessed shalt thou be when thou comest in, and blessed shalt thou be when thou goest out.
7 The LORD shall cause thine enemies that rise up against thee to be smitten before thy face: they shall come
out against thee one way, and flee before thee seven ways.
8 The LORD shall command the blessing upon thee in thy storehouses, and in all that thou settest thine hand unto; and he shall bless thee in the land which the LORD thy
God giveth thee.
9 The LORD shall establish thee an holy people unto himself, as he hath sworn unto thee, if thou shalt keep the commandments of the LORD thy God, and walk in his ways.
10 And all people of the earth shall see that thou art called by the name of the LORD; and they shall be afraid of thee.
11 And the LORD shall make thee plenteous in goods, in the fruit of thy body, and in the fruit of thy cattle, and in the fruit of thy ground, in the land which the LORD sware unto thy fathers to give thee.
12 The LORD shall open unto thee his good treasure, the heaven to give the rain unto thy land in his season, and to bless all the work of thine hand: and thou shalt lend
unto many nations, and thou shalt not borrow.
13 And the LORD shall make thee the head, and not the tail; and thou shalt be above only, and thou shalt not be beneath; if that thou hearken unto the commandments of the LORD thy God,
which I command thee this day, to observe and to do them:
14 And thou shalt not go aside from any of the words which I command thee this day, to the right hand, or to the left, to go after other gods to serve them.
Psalms 35:27
Let them shout for joy and be glad, who favor my righteous cause. Yes, let them say continually, "Yahweh be magnified, who has pleasure in the
prosperity of his servant!"
Psalms 37:11
But the meek shall possess the land, and shall delight themselves in the abundance of prosperity.
Psalms 106:5
That I may see the good of thy chosen, that I may rejoice in the gladness of thy nation, that I may glory with thine inheritance.
Psalms 68:6
God setteth the solitary in families: he bringeth out those which are bound with chains: but the rebellious dwell in a dry land.
Proverbs
13:21-25 Evil pursueth sinners: but to the righteous good shall be repayed.
22 A good man leaveth an inheritance to his children's children: and the wealth of the sinner is laid up for the just.
23 Much food is in the tillage of the poor:
but there is that is destroyed for want of judgment.
24 He that spareth his rod hateth his son: but he that loveth him chasteneth him betimes.
25 The righteous eateth to the satisfying of his soul: but the belly of the wicked shall want.
Proverbs 21:21
He that followeth after righteousness and kindness Findeth life, righteousness, and honor.
29 A wicked man hardeneth his face: but as for the upright, he directeth his way.
Isaiah 45: 3
And I will give thee the treasures of darkness, and hidden riches of secret places, that thou mayest know that I, the LORD, which call thee by thy name, am
the God of Israel.
7 I form the light, and create darkness: I make peace, and create evil: I the LORD do all these things.
8 Drop down, ye heavens, from above, and let the skies pour down righteousness: let the earth open, and let them bring forth salvation, and let righteousness spring up together; I the
LORD have created it.
Proverbs 16:23
The heart of the wise teacheth his mouth, and addeth learning to his lips.
24 Pleasant words are as an honeycomb, sweet to the soul, and health to the bones.
Ecclesiastes
7:11 Wisdom is good with an inheritance: and by it there is profit to them that see the sun.
12 For wisdom is a defence, and money is a defence: but the excellency of knowledge is, that wisdom giveth life to them that have it.
13 Consider the work of God: for who can make that straight, which he hath made crooked?
14 In the day of prosperity be joyful, but in the day of adversity consider: God also hath set the one over against the other, to the end that man should
find nothing after him.
Deuteronomy
15:3 "From a foreigner you may exact it, but your hand shall release whatever of yours is with your brother.
4 "However, there will be no poor among you, since the LORD will surely bless you in the land which the LORD your
God is giving you as an inheritance to possess,
5 if only you listen obediently to the voice of the LORD your God, to observe carefully all this commandment which I am commanding you today.…
6 "For the LORD your God will bless you as He has promised you, and you will lend to many nations, but you will not borrow; and you will rule over many nations, but they will not rule
over you.
2 Corinthians 9:7
Every man according as he purposes in his heart, so let him give; not grudgingly, or of necessity: for God loves a cheerful giver.
2 Corinthians 9:6,7
But this I say, He which sows sparingly shall reap also sparingly; and he which sows bountifully shall reap also bountifully.
James 1:17
Every good gift and every perfect gift is from above, and comes down from the Father of lights, with whom is no ficklenss, neither shadow of turning.
Joshua 1:8 This book of the law shall not depart out of your mouth, but you shall meditate on it day and night, that you may observe to do according to
all that is written therein: for then you shall make your way prosperous, and then you shall have good success.
Proverbs 11:25 He who gives blessing will be made fat, but the curser will himself be cursed.
Psalms 37:7 Be silent for Jehovah, and stay thyself for Him, Do not fret because of him Who is making prosperous his way, Because of a man doing wicked
devices.
Isaiah 48:15 I, even I, have spoken; yes, I have called him; I have brought him, and he shall make his way prosperous.
Zechariah 8:12 For the seed shall be prosperous; the vine shall give her fruit, and the ground shall give her increase, and the heavens shall give their
dew; and I will cause the remnant of this people to possess all these things.
143315 186 total views, 27 2 views today
Heavens-Beauty Website Our Sister Site
Dont Forget We have a Sister "Heavns-Beauty" Website also!
It also is a Prayer Website, with lots of Information on it as well. We will be Updating it soon, even though it is done in WordPress! You can go there Anytime your heart desires! If, you like Our Christian websites Let us know and Pass them along as you go along! Click Here!