Welcome to the Newest Update to "Heavens Beauty – Wisdom of Jesus"
John 3:16 For God so loved the world He gave His only begotten son, that whosoever believeth in Him should not perish but have everlasting life.
David –– Saul & Anointing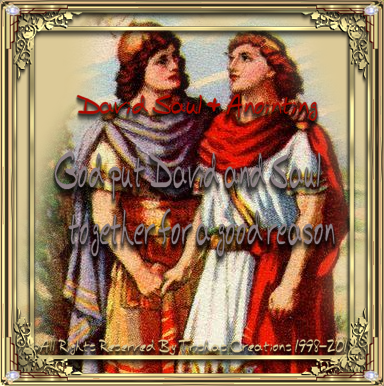 David –– Saul & Anointing
1 Samuel 18:3-5,14

You know David and Jonathan were great friends to each other. If, you have a great friend that is there for you and you love them very much be thankful for them. Jonathan, was there for David everyday and God puts people in our lives for a reason.
Just like God put David and Saul together for a good reason, David was an anointed man and he was anointed to be a King, even though he was anointed to be King, he was placed into Saul's household. David had to go through training and some crucifixion of the flesh.
For us, to be anointed for leadership we have to be around people who were like Saul. God, uses people who are like the Saul's in our lives to get the Saul's out of our life.
Someone who is like rough sandpaper, who needs their edges smoothed off. Just because, we are to be in leadership doesn't mean we get to move right on in, like purchasing a house or a car. We have to be smoothed off at the rough areas in our lives to be able to be prepared for what God wants and has prepared for us to do in leadership.
David, acted wisely in all in ways and he succeeded and the Lord was always with him. He acted like he was to act allowed the Lord to be with him. We have to serve in circumstances first, and behave wisely. The purposes us to be used greatly by God. We just have to allow Him to work in our lives and change us.
Just like David, he was treated cruelly by Saul, but he had forgiven him, he loved him and God worked in David's life because David allowed God in His life!
143315 127 total views, 27 1 views today
Heavens-Beauty Website Our Sister Site
Dont Forget We have a Sister "Heavns-Beauty" Website also!
It also is a Prayer Website, with lots of Information on it as well. We will be Updating it soon, even though it is done in WordPress! You can go there Anytime your heart desires! If, you like Our Christian websites Let us know and Pass them along as you go along! Click Here!