Welcome to the Newest Update to "Heavens Beauty – Wisdom of Jesus"
John 3:16 For God so loved the world He gave His only begotten son, that whosoever believeth in Him should not perish but have everlasting life.
3 Things To Do In Seeking God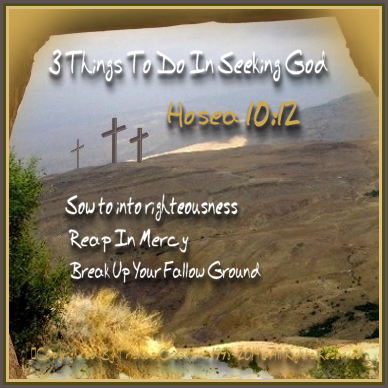 3 Things To Do In Seeking God
Hosea 10:12
When seeking God, we all need to know how we can and know when we do, we are covered by His covenant and we are sure He will provide and protect us. Even though there is many ways we can pray and seek His presence here are 3 For Sure ways, that will help you in "Seeking God."
Have you ever thought about how we can get closer to God and seek Him with all the right ways? I know I have, there are times I question what am I doing wrong not to feel His divine Joy and His approval for what I do to be a better person and do what I feel He wants me to be doing to bring other's to Him.
Sometimes, I feel I am not good enough to become one of those who can bring the lost to Him, am I doing something wrong, am I seeking Him in the wrong way?
Below I have listed 3 Ways to Seek God that I have gotten from a Bible from Benny Hinn Ministries and I am in hopes that they help you.
1.    Sow to into righteousness – this means to stop sinning and to start doing what is right in ALL things, to concentrate to do that which is good and right. Sowing and Reaping always stand out against each other, as labor and reward. 2 Corinthians 9:6, Galatians 6:7-9
2.    Reap In Mercy – This means to accept and to appropriate the mercy of God that is extended to us. If, we do not accept mercy from God, it will not be ours, for both sowing in righteousness and reaping in mercy are our responsibility. Righteousness is here to do, and mercy is here to receive but neither will be a man's experience until he does what is right and accept the mercy which is provided to him by God. Matthew 5:7, Mark 11:25-26
3.    Break Up Your Fallow Ground – This also means, the work of man. Each must break up the ground of his own life. Fallow ground is that of which has been plowed but not sown, ground which is not in use. Idle ground, created over and hardened until it needs to be broken up again, to receive the seed. Our hearts and wills must be broken and they are to be yielded to God. We must make ourselves willing to receive the Word of God, and to obey it or seeking him will not be available to us anything. Matthew 13;3-12, 18-23, James 1:18,21, 1 Peter 1:23
This gives us the answers to the questions of how long we would seek the Lord –– till He Comes and rains righteousness upon the seeker.
143315 137 total views, 27 1 views today
Heavens-Beauty Website Our Sister Site
Dont Forget We have a Sister "Heavns-Beauty" Website also!
It also is a Prayer Website, with lots of Information on it as well. We will be Updating it soon, even though it is done in WordPress! You can go there Anytime your heart desires! If, you like Our Christian websites Let us know and Pass them along as you go along! Click Here!