Welcome to the Newest Update to "Heavens Beauty – Wisdom of Jesus"
John 3:16 For God so loved the world He gave His only begotten son, that whosoever believeth in Him should not perish but have everlasting life.
15 Reasons Why All Should Work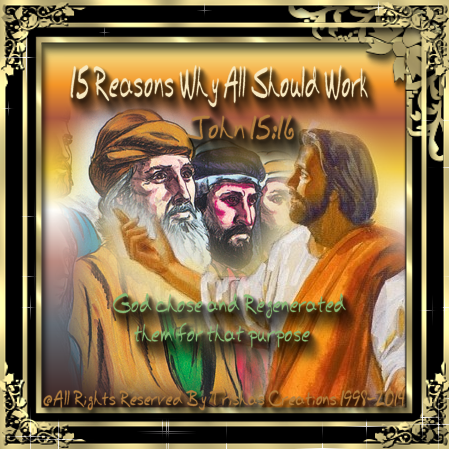 15 Reasons Why All Should Work
How To Live A Christian Life

Have you noticed allot of people will not work? How many people have you seen living off the government and living off their families and not willing to get out there and put their talents to work? How many have you seen just walking around like there is nothing to do?
There are millions, not just because of the way the economy is, because if they would get out there and work they could actually help the economy, we are not talking just about working everyday at a day or night job, we are talking about working for "Jesus" working for "God Our Father."
I have again listed many Scriptures which you can look up in your Bible and have listed some statements which go along with the verse that will help you. We are supposed to work, somehow in something. You may not be able to actually go out into the world and work at a desk job or in a factory etc. but you can work in the Ministry.
You can help bring other's to Christ, we can work together in making sure we are doing Gods work, what He wants us to do and we can do this together.
I have listed 15 Reasons Why ALL People should work, I hope this helps you into understanding why by looking up the verses and scriptures I have included here.
15 Reasons Why All Should Work
God has commanded it
Matthew 28:19-20, Mark 16:15-20, Luke 24:47-50, Acts 1:8
To show the genuineness of their faith and love
John 15:10 -14, James 1:22-27, 2:14-26, 1 John 3:14-22
God chose and regenerated them for that purpose.
John 15:16, Ephesians 2:10
Christ died that they might work.
2 Corinthians 5:15-21, Titus 2:14
Scriptures were given to qualify them for work.
2 Timothy 3:16-17
Sufficient help is offered to enable them to work.
2 Corinthians 9:8, 10:3-6, Ephesians 6:11-18
That they may be blessed and rewarded.
Romans 14:10, 1 Corinthians 3;13-15, 2 Corinthians 5:10
That God might be glorified.
Matthew 5:16, John 15:8, Titus 3:8
That they might be patterns unto one another.
Titus 2:7, 1 Timothy 1:16, 1 Peter 2:21
They have a stewardship committed to them.
Luke 19:11-27, 1 Corinthians 4:1-2
It is their privilege 1 Corinthians 1:26-31, Ephesians 3:8, 1 Timothy 1:11-12
It is the greatest work. James 5:19-20
It pays well in Joy and Happiness.
Malachi 3:17, Matthew 19:29
Success is assigned before hand.
Isaiah 55:10-11, 1 Timothy 4:16, James 1:25
The world is lost. John 3:16-21, 2 Corinthians 4:4, 1 John 5:19

Where a Christian should work –– they should work in all the world, the most uttermost parts of the earth. Matthew 13:38, 28:19-20, Mark 16:15-20 Acts 1:8
When a Christian should work – right now and not tomorrow. One does not have to wait for an opportunity or appointment. He can start now, right this minute,
next door with the first person he meets. God will hold all responsible for what is done in this matter. Ezekiel 3:18, 1 Corinthians 3:11-15
How to do Christian work –– you can by personal evangelism with all one contacts and has the opportunity to speak to, by giving out tracts, by telling others,
witnessing, publicly, by house to house visitation, by preaching, teaching, practicing the word of God, and by any other means you have or can before you.
143315 108 total views, 27 1 views today
Heavens-Beauty Website Our Sister Site
Dont Forget We have a Sister "Heavns-Beauty" Website also!
It also is a Prayer Website, with lots of Information on it as well. We will be Updating it soon, even though it is done in WordPress! You can go there Anytime your heart desires! If, you like Our Christian websites Let us know and Pass them along as you go along! Click Here!