Welcome to the Newest Update to "Heavens Beauty – Wisdom of Jesus"
John 3:16 For God so loved the world He gave His only begotten son, that whosoever believeth in Him should not perish but have everlasting life.
Gods Word On Wisdom 2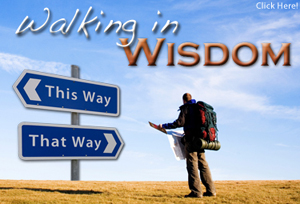 People Know Where To Find Wisdom
"WISDOM OVERVIEW"
Solving a complex problem in trigonometry and writing a computer program that will guide a nuclear submarine both require great intelligence. But such intelligence does not guarantee a fulfilling, balanced, and productive life.
Success in relationships, raising children, and spiritual maturity are dependent not on intellect, but rather on wisdom. The Bible, which devotes the whole book of Proverbs to the subject, teaches that the wisdom to master life's challenges and to understand spiritual truth is found only in God.
WHAT ARE THE BENEFITS OF HAVING WISDOM?
Ecclesiastes 10:10 . . . Since a dull ax requires great strength, sharpen the blade. That's the value of wisdom; it helps you succeed. Wisdom will help you to succeed in what you do.
Ephesians 5:15-17 . . . Be careful how you live, not as fools but as those who are wise. Wisdom helps you know how to live. 1 Kings 3:9-12
Give me an understanding mind so that I can govern your people well and know the difference between right and wrong. The more responsibility you have, the more of God's wisdom you need in order to do what is right.
Proverbs 3:21-26 . . . My child, don't lose sight of good planning and insight.
Hang on to them, for they fill you with life and bring you honor and respect. They keep you safe on your way and keep your feet from stumbling. You can lie down without fear and enjoy pleasant dreams.
You need not be afraid of disaster or the destruction that comes upon the wicked, for the Lord is your security. He will keep your foot from being caught in a trap. Wisdom will help preserve you from trouble and disaster. Proverbs 9:8-12 . . .
Wisdom will multiply your days and add years to your life. If you become wise, you will be the one to benefit. If you scorn wisdom, you will be the one to suffer. Wisdom will give you a richer, fuller life.
HOW DO WE OBTAIN WISDOM?
Job 28:12, 21 ,28
Do people know where to find wisdom?
Where can they find understanding?
No one knows where to find it, for it is not found among the living. . . . For it is hidden from the eyes of all humanity. Wisdom is not easy for people to obtain.
Job 28:23-24, 27 . . . "God surely knows where it can be found, for he . . . established it and examined it thoroughly." God holds all wisdom in his hands.
Job 28:28 . . . "The fear of the Lord is true wisdom; to forsake evil is real understanding." God gives wisdom to those who fear him and forsake evil.
Proverbs 9:10 . . . Fear of the Lord is the beginning of wisdom. Knowledge of the Holy One results in understanding.
Wisdom comes from having a relationship with God
Deuteronomy 4:5-6 . . . You must obey these laws and regulations. . . . If you obey them carefully, you will display your wisdom and intelligence to the surrounding nations.
When they hear about these laws, they will exclaim, "What other nation is as wise and prudent as this!" Obedience to God's word-his commands, laws, and teachings-will make us wise.
1 John 2:27 . . . You have received the Holy Spirit, and he lives within you, so you don't need anyone to teach you what is true.
For the Spirit teaches you all things, and what he teaches is true-it is not a lie. So continue in what he has taught you, and continue to live in Christ. Wisdom comes from having a relationship with God. Proverbs 1:5-7
Let those who are wise listen to these proverbs and become even wiser. And let those who understand receive guidance by exploring the depth of meaning in these proverbs, parables, wise sayings, and riddles.
Obedience to God's word-his commands, laws, and teachings-will make us wise.
Psalm 86:11 Teach me your ways, O Lord, that I may live according to your truth! Grant me purity of heart, that I may honor you. Psalm 5:8 Lead me in the right path, O Lord.
Tell me clearly what to do, and show me which way to turn.
James 1:5 If you need wisdom-if you want to know what God wants you to do-ask him, and he will gladly tell you. He will not resent your asking. If you need wisdom, ask God, and he will give it.
Colossians 3:16 . Let the words of Christ, in all their richness, live in your hearts and make you wise. Use his words to teach and counsel each other.
Listening to Christ's teachings and obeying his words will give wisdom.
Psalm 25:8-9 The Lord . . . leads the humble in what is right, teaching them his way. Proverbs 3:7
Don't be impressed with your own wisdom. Instead, fear the Lord and turn your back on evil. God gives wisdom and guidance to those who are humble.
Proverbs 8:12, 17 . . . "I, Wisdom, live together with good judgment. I know where to discover knowledge and discernment. . . . I love all who love me. Those who search for me will surely find me." Those who seek wisdom are the ones who will find it. Proverbs 20:18
Plans succeed through good counsel; don't go to war without the advice of others. Wisdom can be found in the counsel of people who have wisdom.
IS WISDOM SOMETHING YOU CAN LEARN OR ACQUIRE-OR DO YOU HAVE TO BE BORN WITH IT?
Proverbs 4:1-13 . . . Learn to be wise, and develop good judgment. Wisdom can be acquired through diligent search and obedience to God.
1 Kings 3:5-14  Give me an understanding mind so that I can . . . know the difference between right and wrong. Solomon made wisdom and understanding the priority of his life with God.
HOW DOES ONE GAIN OR GROW IN WISDOM?
James 1:5 . . . If you need wisdom . . . ask him, and he will gladly tell you. We receive wisdom when we seek its source, God.
Psalm 119:96-106 . . . Your commands make me wiser than my enemies, for your commands are my constant guide. God's Word is an unending source of wisdom for those who apply themselves to study.
DOES SPIRITUAL WISDOM GUARANTEE SUCCESS?
1 Corinthians 1:19-21 . . . I will destroy human wisdom and discard their most brilliant ideas. Spiritual wisdom allows us to avoid the folly of the world's wisdom.
Proverbs 5:1-6 . . . Pay attention to my wisdom . Then you will learn to be discreet. Wisdom protects the wise from evil.
Matthew 7:24-27 . . . Anyone who listens to my teaching and obeys me is wise, like a person who builds a house on solid rock. Wisdom allows us to build our lives on a firm foundation.
PROMISES FROM GOD: Proverbs 1:23 . . . Come here and listen to me! I'll pour out the spirit of wisdom upon you and make you wise. God offers wisdom to all who desire it.
Proverbs 3:5-6 . . . Trust in the Lord with all your heart; do not depend on your own understanding. Seek his will in all you do, and he will direct your paths.
Proverbs 3:35 . . . The wise inherit honor, but fools are put to shame!
Proverbs 24:5 . . . A wise man is mightier than a strong man, and a man of knowledge is more powerful than a strong man.
James 1:5 . . . If you need wisdom-ask him, and he will gladly tell you. God offers wisdom to all who desire it.
Psalms 19:7 The law of the Lord is perfect, reviving the soul. The decrees of the Lord are trustworthy, making wise the simple.
 
143315 89 total views, 27 1 views today
Heavens-Beauty Website Our Sister Site
Dont Forget We have a Sister "Heavns-Beauty" Website also!
It also is a Prayer Website, with lots of Information on it as well. We will be Updating it soon, even though it is done in WordPress! You can go there Anytime your heart desires! If, you like Our Christian websites Let us know and Pass them along as you go along! Click Here!