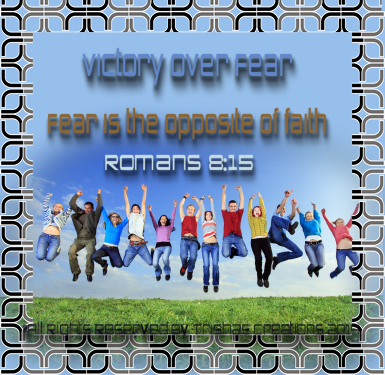 You Can Have Victory Over All Fear
Fear is the opposite of faith.
When it takes hold of a person, it torments them and hinders them from being all that God would have him be.
It can actually keep him from obeying the commandments of God. When fear is operating in a person's life, it nullifies or cancels any faith he might be trying to exert. Their mind is always on what they are fearing. When we fear things in life it destroys how we are and what we can be.
Fear is a horrible thing to have, my mother is an example, bless her heart, when it storms she is terrified and she gets scared, even though the weather isn't as bad as sometimes the weather people says, she still stays in fear.
She told me, when she was younger she witnessed a tornado, across the road, and ever since she has been terrified of the bad weather.
But, one thing some forget is God has our backs, and He will protect us, all we have to do is trust in Him, and let Him know we have faith as small as a mustard seed and He will protect us and , I was always told that "If and when God is ready for us, He will take us."
Same as with any circumstances in life, if it's our time to go, the God will take us home.
Fear is of the devil and he wants us to keep our eyes off The Lord and live in fear and torment... don't let that happen.... Get your VICTORY over FEAR and depend on God to help you!
The power of God's word and His perfect love can totally rid you of all fear.
Exodus 14:13 --- And Moses said unto the people, Fear ye not, stand still, and see the salvation of the LORD, which he will shew to you to day: for the Egyptians whom ye have seen to day, ye shall see them again no more for ever.
1 John 4:18 --- There is no fear in love; but perfect love casteth out fear: because fear hath torment. He that feareth is not made perfect in love.
Psalms 27:1 --- A Psalm of David. The LORD is my light and my salvation; whom shall I fear? the LORD is the strength of my life; of whom shall I be afraid?
Psalms 27:3 --- Though an host should encamp against me, my heart shall not fear: though war should rise against me, in this will I be confident.
Romans 8:15 --- For ye have not received the spirit of bondage again to fear; but ye have received the Spirit of adoption, whereby we cry, Abba, Father.
2 Timothy 1:7 --- For God hath not given us the spirit of fear; but of power, and of love, and of a sound mind.