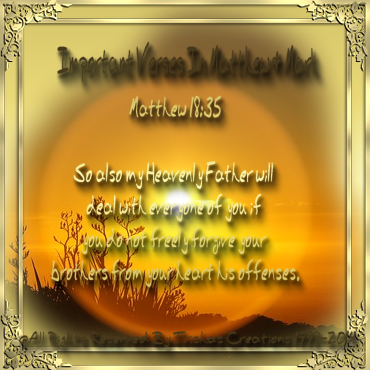 Important Verses In Matthew & Mark

Matthew 2:1-16
Can you imagine the devil being afraid of a child? The devil put fear into King Herod of the birth of Jesus Christ, and had all children put to death 2 years old and under because he was afraid of the new child being born King of the Jews which was Jesus Christ.
We are to become like children we are to be humble, trusting, lovely, forgiving. When we become loving and how God made us we frighten the devil, want to be a threat to the devil and make him run, become child like in faith.
 

Matthew 4:1-11
Satan tempted Jesus and he thought Jesus would actually fall for his deception trying to trick him. And we all are tempted by the devil, but we can resist him and tell him where to get off at and that is knowing Gods word!

Matthew 15:4
God commanded, Honor your father and your mother, and he who curses, reviles or speaks evil of or abuses or treats improperly his father and or mother, let him surely come to his end of death. (Exodus 20:12, 21:17, Leviticus 20:9, Deut. 5:16)

Matthew 15:11,18
It is not what does into the mouth of a man that makes him unclean and defiled, but what comes out of the mouth; this makes a man unclean and defiles him.

Matthew 15:18
But whatever comes out of the mouth come from the heart and this is what makes a man unclear and defiles him.

Matthew 15:19
For out of the heart come evil thoughts, reasons and disputings and designs such as murder, adultery, sexual vice, theft, false witnessing, slander, and irreverent speech.

Matthew 15:20
Those are what make a man unclean and defile him, but eating with unwashed hands does not make him unclean or defile him.

Matthew 18:7
Woe to the world for such temptations to sin and influences to do wrong! It is necessary that temptation come, but woe to the person on whose account or by when the temptations come!

Matthew 18:35
So also my Heavenly Father will deal with everyone of you if you do not freely forgive your brothers from your heart his offenses.

Matthew 18:19-20
Again I tell you if two of you on earth agree ( harmonize together, make a symphony together) about whatever (anything and everything) they may ask, it will come to pass and be done for them by my father in Heaven.
Fore wherever two or three are gathered (drawn together as my followers) in onto my name, there I am in the midst of them.

Matthew 20:1
For the Kingdom of Heaven is like the owner of an estate who went out in the morning along with the down to hire workers for the vineyard.

Matthew 20:16
Means that many are called or given an opportunity to do something for the Lord, but very few are willing to take the responsibility to answer the care, Gods call does come with responsibility, but it also comes with rewards.
Matthew 25:31
"When the Son of Man comes in his glory, and all the angels with him, he will sit on his glorious throne."

Matthew 26:41
We need to apply Jesus' admonition to watch and pray to our own lives. Watch for the attacks of Satan because he can fool you and attack your life. Pray immediately. Come against Satan when he is trying to get his foot hold, so he never gets the stronghold.
Matthew 28:18
Then Jesus came to them and said, "All authority in heaven and on earth has been given to me."

Matthew 11:28
"Come to me, all you who are weary and burdened, and I will give you rest."
Mark 10:47
Mercy precedes healing, Jesus healed many which cried out for mercy. Jesus, didn't turn away - He healed them we all need to pray or ask for mercy. When the blind man was hollering for Jesus to have mercy on him, the crowd kept telling him to shut up, but the blind man didn't he kept on until Jesus heard him, and he was healed.

Mark 11:1-11
There are many leaders who meet together and they all have to come on their richest, nicest car, plane, etc. But Jesus he come on a colt when he entered the city. Just because Jesus don't come or work in your lives as you expect does not mean he won't or has forgotten about you because he has not. Ask God for help, to recognize Him at work in your life and enjoy him and his presence - even when He works when your least expect it.

Matthew 4:1-11
Never be surprised or wondering about when temptations come on us. Jesus, was tempted by Satan, he purposely tempted Jesus, because thought he cold give Jesus his Kingdom of sin and Jesus would given in, but Jesus didn't, Jesus spoke his fathers word against him and he left him.
We have to stay in God's word so when we are tempted by the evil works of Satan we know we have the father God's word to back us up. Because Satan hates to hear it, he hates to see he's a looser always has been. So read, study Gods word and use it against the devil he has to flee at the mountain of the word of God, Jesus name he has to go.

Matthew 5:4
Jesus said, for those who mourn, are blessed and they will be comforted. The comfort of God which is given to us by the Holy Spirit is so awesome that it is almost worth having a problem just to be able to experience it. Joyce said.
Most things of God, it goes for beyond any kind of ordinary comfort. Let God be your comforter. When we are hurting, ask God to help you, ask him to give you his comfort, then wait for his presence while he works in your heart and life. He will not ever fail you.