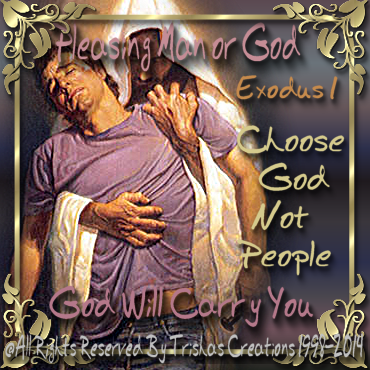 Pleasing Man or God?
Exodus 1

In Exodus it talks about the Hebrew mid wives which had to choose between fearing and okaying orders from the King of Egypt or pleasing God. They chose to please God and to fear him.

This is going to sound like I am complaining, but it is far from that. It's just giving an example of how I put people before God, and I found out that I was doing wrong and not even realizing what I was doing.
Because, I always thought we was to place people before other things in our lives, and through "Joyce Meyers Bible" the examples she gives I found out I was really placing other's before God, not meaning to though. This goes back and to this day in my life. I always was the kind of person and I still am, always wanting to please everyone, always wanting people smiling and happy - so I would always I mean always doing what they wanted or needed me to do, to prevent arguing and fussing name calling, etc.

No, not me doing others in my family this way it was visa-versa doing this to me. I didn't know what to do, except keep peace and do and please my family all the time. I hardly ever get enough peace for myself or around me unless I did what was asked of me.
I was so worried about if I didn't do this or that for someone all corners of my life would just crumble and crash down on me and trouble would arise no matter what I felt like God wanted me to do, or I felt like he wanted me to do.
I lost my self - esteem, my spiritual part of my life just kept getting knocked down, I was miserable most of the time because, they always get their way and no matter what I thought, needed, had to do remembered business down the drain because I was and still do to this day to try to stop the fussing, arguing - name calling, screaming and hollering, I am finding out, after all these years I am having to put my feet down and start telling and say, "No, no more - I finished done" because my relationship with God is more important to me within my being, spiritually and mentally and emotionally I have chosen God, whether my family can see it or gets mad, I want God to be my center of my life.
So, instead of choosing man....... I choose God!
So, who do you choose God or man, because if you choose man over God you will be miserable your whole life, never happy at peace - I had to choose are you?

Exodus 2
Hearing God - There are many times I feel I hear from God, but do I? People say, they hear from God, but sometimes wonder, because they are not living on holy ground.
Exodus says Chapter 3 - To hear clearly from God, you need to be willing to live on holy ground (life of purity) keeping our minds, thoughts, acting in line with Gods word.
Jesus says: the pure in heart will see God (Matthew 5:8)