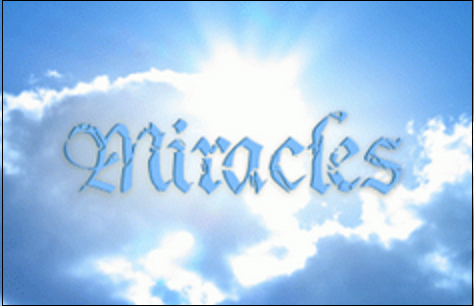 "Believe In What You Ask God to Do"
5 of 5
"Steps" to Get Your Miracle from God the Heavenly Father
Miracles In 9 Steps
Believe In What You Ask God to Do!
God, is a faithful God, He does not lie, He does not break His Promises to us.

Below are some "Steps" to Get Your Miracle from God the Heavenly Father!
Stop living by your emotions, live in the Spiritual Light.

Do Not be afraid of what you are, who you are, or believing in Jesus Christ.

Exercising Your Faith, and your Patience.

Never Lack in your patience, nor you faith, you need these to help bring your Miracle to pass.

Allot of People's failures is the lack of patience and their faith. They believe a few days, and nothing has come yet, and then they fail to keep on trusting and believing in their faith.

Patience let's define it: In some contexts, the word "patience" takes on the more general meaning of waiting long and expectantly for something.

Patience does not preempt the action you need to take on your decision making.

Strive for Excellence, Reach for it, Reach for the Greatness Of God the Father.

There are allot of people's who claim they are being patient but when they actually define what they feel it's turns into pure laziness.
You actually thought the "Steps" would be hard? They are easy as 1-2-3, only if we apply them can we be sure "Our Miracles" which we desire for ourselves and other's will be given.