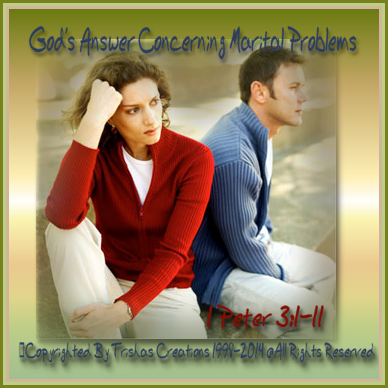 God's Answer Concerning Marital Problems

For we are members of his body, of his flesh, and of his bones.

For this cause shall a man leave his father and mother, and shall joined unto his wife, and they two shall be one flesh.

This is a great mystery: but I speak concerning Christ and the church.

Nevertheless let everyone of you in particular so love his wife even as himself; and the wife see that she reverence her husband.
 

(1 Peter 3:1-11)
Likewise, ye wives, be in subjection to your own husbands; that, if any obey not the word, they also may without the word be won by the conversation of the wives;

While they behold your chaste conversation coupled with fear.

Whose adorning let it not be that outward adorning of plaiting the hair, and of wearing of gold, or of putting on of apparel;

But let it be the hidden man of the heart, in that which is not corruptible, even the ornament of a meek and quiet spirit, which is in the sight of God of great price.

For after this manner in the old time the holy women also, who trusted in God, adorned themselves, being in subjection unto their own husbands:

Even as Sara obeyed Abraham, calling him Lord: whose daughters ye are, as long as ye do well, and are not afraid with any amazement.

Likewise, ye husbands, dwell with them according to knowledge, giving honor unto the wife, as unto the weaker vessel, and as being heirs together of the grace of life; that your prayers be not hindered.

Finally, be ye all of one mind, having compassion of another, love as brethren, be pitiful, be courteous.

Not rendering evil for evil, or railing for railing: but contrariwise blessing; knowing that ye are thereunto called, that ye should inherit a blessing.

For he that will love life, and see good days, let him refrain his tongue from evil, and his lips that they speak no guile:

Joshua 24:15
And if it seem evil unto you to serve the LORD, choose you this day whom ye will serve; whether the Gods which your fathers served that were on the other side of the flood, or the gods of the Amorites, in whose land ye dwell: but as for me and my house, we will serve the LORD.

Romans 13:10
Love worketh no ill to his neighbor: therefore love is the fulfilling of the law.

Psalms 101:2
I will behave myself wisely in a perfect way. O when wilt thou come unto me? I will walk within my house with a perfect heart.

Proverbs 3: 5-6
Trust in the Lord with all thine heart; and lean not unto thine own understanding.

In all thy ways acknowledge him, and he shall direct they paths.

Proverbs 10:12
Hatred stirreth up strifes: but love covereth all sins.

1 Peter 1:22
Seeing ye have purified your souls in obeying the truth through the another with a pure heart fervently.

Be-el ze-bub - The Prince of the demons (Matthew 10:25)

De-mo Ri-ae -One possessed and ruled by a demon (Mark 5: 1-10)
Star gazers. One who traces the course of the planets. (Exodus 25:10) In vain hope of being able to tell fortunes and product future events. (Daniel 1:20)

Satan (Isaiah 14:12-14) ( adversary - the devil)
Devil (John 6:70 (diabolos) Satan, the greatest of the fallen spirits. An enemy of Christ, one who is a surper of Christ's name, and right, a pers in oppositioning Christianity. 1 John 2:18, 22
Matthew 4:8-11