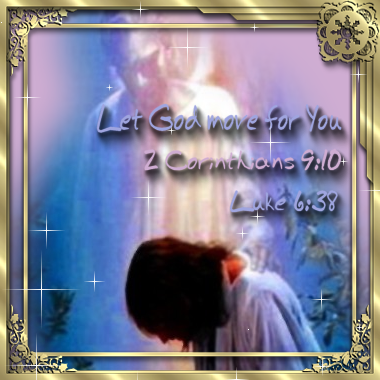 Let God move for You

When you act on your faith, you send the angels on assignment to get your miracle from Heaven and bring it back to you.

God wants to take you to 'Bethel,' which means The House of God. The angels take your prayer request through the gateway to heaven to Him.

Then they get your answers and bring them back down to you. The Bible says: The angels are ministering spirits, sent out in the service of God to assist His children.
When you act on your faith, you send the angles of God on assignment to get your miracle from Heaven and bring it back to you.

1. God is your provider.
2. Worship God with your tithe and offerings by paying your vows.
3. Give back to God what He had blessed you with.
4. God will answer your prayers and bless you with more than you could imagine because you're looking beyond yourself to God.
5. God will prosper you with wealth, honor, health, and happiness

When you look to yourself, you'll never have enough, but when you look to God, you'll live in His abundance. Tithing, vowing, giving, offerings enable you to cast seed into the earth and see it grow.

2 Corinthians 9:10 God's promise to give you seed to sow, bread to eat, and to multiply your seed sown.


Luke 6:38 - Word of God says: That when you give, it will be given back to us multiplied.

1. But, you must give in faith.
2. Give out of your need.
3. Your life and circumstances will change as well.
4. By giving your vows, tithes, and offerings to God, you are making a covenant with Him.
5. You are not buying a miracle from God.
6. You are worshipping Him through your giving as Jacob did.
7. You are exchanging gifts.
8. You are showing God you trust Him instead of your money.
9. Giving to God is an act of faith.
10. By trusting God with your money, you are saying, like Jacob did, that you are making God you source of supply to meet all your needs, believing He will prosper and protect you.

Here are 9 things that will prevent answers to prayers

1. Unbelief.
2. Lack of faith.
3. Not acting on your faith.
4. Not acting in Jesus' name.
5. Asking amiss.
6. Praying unwisely.
7. Not praying at all.
8. Ignorance of God's promises.
9. Wavering between faith/unbelief.

The only way to overcome these prayer killers is to hide God's word in your heart and meditate on it until you really hear what God has to say, until it becomes 'Rehma' (alive and powerful) to your heart.

Genesis 65:24
Hebrews 1:14
Isaiah 65:24
Luke 6:38
1 John 5:14-15
2 Kings 17
2 Corinthians 9:10