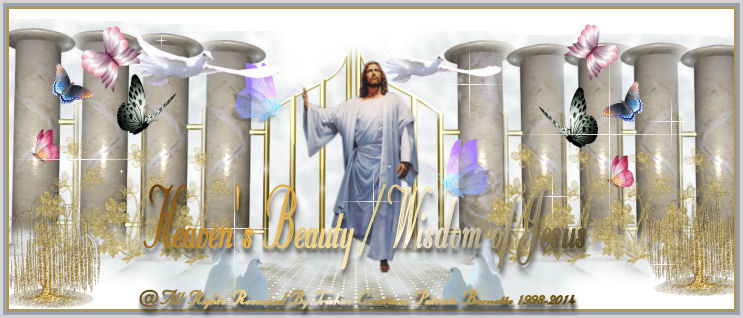 " IS THERE REALLY A HEAVEN?"
 Try to visualize The Beauty of Heaven.... can you?
There is no way we can even imagine the actual Beauty of Heaven. But the Bible is clear about what it will look like and how we are to get there.

Many people say they have died and gone to heaven and some say they have died and went to hell.... well I can relate to some of that. When, we call upon the Lord to Save Us, and to Come into Our hearts, we become saved.

We have a promise from the Lord God Almighty, when we die or when He returns that we will go to heaven. But, there are things we must do, and try our hardest to do and stop doing and keep on doing!

Our culture has various misguided ideas about heaven: that it consists of departed souls eternally playing harps in comfy cloud-chairs or that it means doing or being everything you love best. They draw pictures of their version of heaven, and which also, misleads other's who do not or have not read the Bible about what Heaven looks like or will look like.

Perhaps the most tragic misconception is that heaven is the place where everyone goes after death-or at least everyone who has lived a "good" life. The Bible, by contrast, presents a picture of heaven as the glorious, awesome home of the triune God. And the Bible is also very specific about who will live there.

IS THERE REALLY A HEAVEN?
Answer: YES!

Genesis 14:22 . . . Abram replied, "I have solemnly promised the Lord, God Most High, Creator of heaven and earth."

John 14:2 . . . There are many rooms in my Father's home, and I am going to prepare a place for you. If this were not so, I would tell you plainly.

1 Corinthians 5:1 . . . We know that when this earthly tent we live in is taken down-when we die and leave these bodies-we will have a home in heaven. Not only is there a heaven, but Jesus is preparing it for our arrival.

WHAT IS HEAVEN LIKE?

Isaiah 65:17 . . . Look! I am creating new heavens and a new earth-so wonderful that no one will even think about the old ones anymore.

Philippians 3:21 . . . He will take these weak mortal bodies of ours and change them into glorious bodies like his own.

James 1:17 . . . Whatever is good and perfect comes to us from God above, who created all heaven's lights.

Revelation 21:3-4 . . . I heard a loud shout from the throne, saying, "Look, the home of God is now among his people! He will live with them, and they will be his people. God himself will be with them. He will remove all of their sorrows, and there will be no more death or sorrow or crying or pain. For the old world and its evils are gone forever."

Revelation 22:5 . . . There will be no night there-no need for lamps or sun-for the Lord God will shine on them. And they will reign forever and ever. In heaven we will live forever with God.
There will be no sadness, no pain, no evil, no death. Everything will be perfect and glorious. God will give us new bodies and we will be able to talk face to face with the Lord Himself.

WHO WILL GET INTO HEAVEN?

Matthew 5:3 . . . "God blesses those who realize their need for him, for the Kingdom of Heaven is given to them."

Matthew 19:14 . . . Jesus said, "Let the children come to me. Don't stop them! For the Kingdom of Heaven belongs to such as these."

John 3:16 . . . God so loved the world that he gave his only Son, so that everyone who believes in him will not perish but have eternal life. Those who accept Jesus Christ as Savior and recognize that only he can forgive their sins will gain entrance into heaven. This only occurs with a humble and repentant attitude.

DOES THE BIBLE REALLY CLAIM THERE IS ONLY ONE WAY TO HEAVEN?

John 14:6 . . . Jesus told him, "I am the way, the truth, and the life. No one can come to the Father except through me." Jesus is the only way to heaven. We may want to buy our way in, work our way in, think our way in. But the Bible is clear-Jesus Christ provides the only way in.

PROMISES FROM GOD: John 14:2 . . . There are many rooms in my Father's home, and I am going to prepare a place for you. God is preparing a wonderful place for us in heaven.

1 Corinthians 2:9 . . . "No eye has seen, no ear has heard, and no mind has imagined what God has prepared for those who love him."

Revelation 3:5 . . . All who are victorious will be clothed in white. I will never erase their names from the Book of Life. Those who endure in their faith have a secure place in heaven.
You can also, read these here, if you just came here through the menu and haven't went to the other pages on Heaven.
Heaven, Heaven Main, Heaven 1, Heaven 2, Heaven 3, Heaven 4, Heaven 5 , Heaven 6, Heaven 7