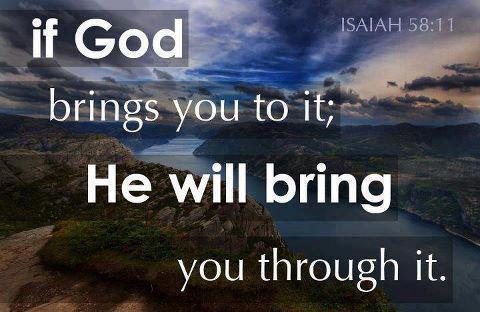 GODíS WORD ON GODíS WILL

GODíS WILL, GODíS WORD ON DOES GOD REALLY HAVE A PLAN FOR MY LIFE?
Psalm 139:3 . . . You chart the path ahead of me and tell me where to stop and rest. Every moment you know where I am. God cares about what we do. He cares about the details of our lives because they are a barometer of the condition of our heart.
Psalm 138:8 . . . The Lord will work out his plans for my life. Godís plans for us are always for good. Unknown plans can be frightening, but when the plans belong to God, we can rest assured that we can expect something marvelous.
Psalm 32:8 . . . The Lord says, ďI will guide you along the best pathway for your life. I will advise you and watch over you.Ē God definitely wants to help us follow the path that will be most pleasing to him, not the path that may be most pleasing to us.
WHAT ARE SOME THINGS I SHOULD DO TO DISCOVER GODíS WILL FOR MY LIFE?
Proverbs 2:3-8 . . . Cry out for insight and understanding. Search for them as you would for lost money or hidden treasure. Then you will understand what it means to fear the Lord. Actively look for Godís will for you.
Isaiah 2:3 . . . ďCome, let us go up to the mountain of the Lord, to the Temple of the God of Israel. There he will teach us his ways, so that we may obey them.Ē Let God teach you from his Word.
Hosea 6:3 . . . Oh, that we might know the Lord! Let us press on to know him! Then he will respond to us. Give yourself completely to knowing his will. Seek Godís will passionately, not casually.
James 1:5 . . . If you want to know what God wants you to do-ask him, and he will gladly tell you. He will not resent your asking.
Proverbs 2:6 . . . The Lord grants wisdom!
1 John 5:14 . . . We can be confident that he will listen to us whenever we ask him for anything in line with his will. Pray, asking God to reveal his will to you.
Acts 21:14 . . . When it was clear that we couldnít persuade him, we gave up and said, ďThe will of the Lord be done.Ē Sometimes the best way to know Godís will is to let go and let God have his wonderful way. We may learn more about his will for us as we allow him to work out his will in our lives.
WHAT ARE SOME OF THE THINGS WE KNOW ARE GODíS WILL FOR US?
Amos 5:24 . . . I want to see a mighty flood of justice, a river of righteous living that will never run dry. Godís will is that we seek justice at all times and that we do what is right.
1 Corinthians 14:1 . . . Let love be your highest goal. Godís will is that we love others.
Mark 10:43-45 . . . Even I, the Son of Man, came here not to be served but to serve others.
Godís will is that we serve others, putting them above ourselves.
Exodus 20:1-17 . . . Then God instructed the people as follows. Godís will is that we obey his laws for living.
Galatians 5:22-26 . . . When the Holy Spirit controls our lives, he will produce this kind of fruit in us. Godís will is that we live under the power and guidance of the Holy Spirit.
Proverbs 16:3 . . . Commit your work to the Lord, and then your plans will succeed. Godís will is that we do everything as if we were doing it for him.
PROMISE FROM GOD: Jeremiah 29:11 . . . ďI know the plans I have for you,Ē says the Lord. ďThey are plans for good and not for disaster, to give you a future and a hope.Ē
†