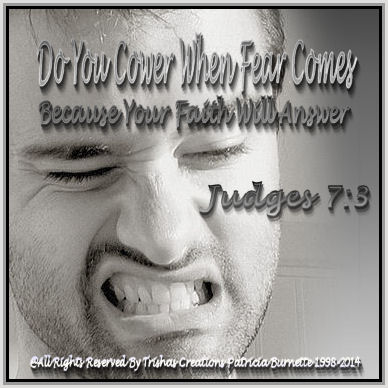 Do You Cower When Fear Comes
Judges 7:3

The Lord Instructed Gideon to tell the men of 30 thousand, who were fearful to turn around and go home, twenty thousand of these men left and went home.
Cower, means to : crouch down in fear.

synonyms: cringe, shrink, crouch, recoil, flinch, pull back, draw back, tremble, shake, quake, blench, quail, grovel

There were ten-thousand men left behind to face the enemy. That means that there were twenty-thousand out of thirty thousand which was way more fearful than there was courageous!

How many times does, God put something in your heart to do something, and then when the time comes you, cower and become afraid, bringing you into that fear and hesitation, which causes you to be double minded?

You may feel fear, but can do things afraid. We all need to remember, God's Word says to us: "Fear not, for I am with you."

Use your faith, when fear comes knocking on your door ---- Because Your Faith Will Answer!!!!