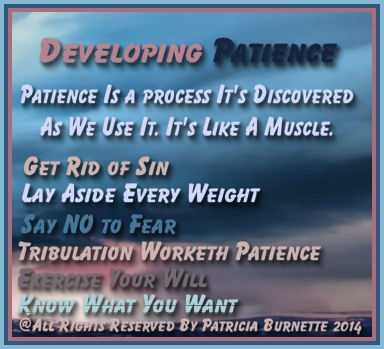 How You Can Develop Patience
Patience, like a muscle, needs to be exercised and developed in order to function effectively.
Patience is not something that comes automatically neither will you become patient just by deciding you will be patient. Christians need to train themselves to be patient and resistant. I want to share several keys with you that will help you develop patience.
God said; if you donít cast away your confidence, you will have a great recompense of reward after you have done His will. That means you need to be a doer of the will and the word of God, and not a hearer only.
ďWhat are you to do?Ē
Line up what you are doing and what you are thinking with the line of Godís word.
Every action, decision and goal in our lives should be aligned with Godís word. When we have the stamp of approval of His word, we will have the motivation to persevere.
Get Rid of Sin. The writer of Hebrews exhorts us to; ďLay aside every weight, and the sin which doth so easily beset us, and let us run with patience the race that is set before us.Ē
Sin will hamper our progress, just as any unnecessary burden hampers the progress of a runner.
If youíre holding onto a sin in your life, that sin will stop Godís power from flowing up out of your heart. It will quench the force of patience. Take a look at yourself in the mirror of Godís word. If you lack patience because youíve blown it, because sin has got hold of you and quenched strength, the repent and get rid of the sin.
If you want to possess the promises of God, youíve got to get sin out of your life. Sin will quench the flow of faith and patience. Sin will stop the promises from working. If you want to run with patience the race that is set before you, you need to lay aside any besetting sin.
Lay aside and weight or encumbrance.
In other words, discard anything in your life that does not promote obedience and fellowship with God.
ďLay Aside Every Weight.Ē We read in Hebrews 12:1
Say NO to Fear
Fear causes a lot of people to become impatient. When fear comes along, they fear that they are not going to get the answer to their prayers. Remember, what happened to Job? He feared! When his troubles came he said,
ďThe thing which I greatly feared is come upon me.Ē
But you donít have to be overcome by your fears. When Satan tempts you to fear, just say ĎNo!í
That applies to a very sensitive area to all of us. We all need to overcome the fear of criticism. Many people procrastinate and become impatient because they are concerned about what other people might say or think about them if they fail.
We need to remember that the word of God teaches that we will face criticism if we successfully carry out the will of God.
Fear of criticism, will discourage you from doing the will of God. When we face opposition, we should not let the things others say and do affect and discourage us. The apostle Paul wrote:
People who criticize or slander us can actually be used by God to develop a more Christ-like character in us. What they intend for evil, God can use for our good..
So, thinking about failing because of criticism is fruitless and failing to wait on God because of criticism is allowing yourself to be defeated by evil the Devil.
We are to think of succeeding, and to continue pressing towards the mark of the prize of the high calling in Christ Jesus.
Ultimately, everything in our lives depends on our will including patience..
Every one of you knows what it is to will to do something. If you will to do something you can do it. Before you are a doer of the word, youíve got to will to do it. If you really desire to exercise patience, you can do it.
Know What You Want
It is impossible to exercise patience and persistence toward a goal if you donít know what the goal is, if you donít know what you are believing God for, or if you donít know the direction in which He is taking you..
Also, if you do not have a strong desire for a goal or dream, you will not persevere with the effect to achieve it. When I look at biographies of great men of old and observe the lives of great men of today, I find that every one of them knew what he wanted and was patient in finding out how to get it. If you want to be successful, you must know what you want out of your life. You may wonder, ĎI donít know if thatís what God wants me to do.í
If you are wondering what God wants you to do, all you have to do is pray and ask Him to show you. God will speak to you in various ways. He may speak to you to your heart with a still small voice; He may speak to you through other people in a way that you absolutely know it is Him, He may speak through His word, or He may speak in an audible voice.
Get informed and organized
When God gives you a vision or tells you to do something, it is to your advantage that you get every bit of information available on it. Knowing the fact will help you persevere on your course. You should do extensive research in the area of your vision and make careful notes of what you learn..
Meditate on your plan
A late scientist Albert Einstein said that, ďNo problem can be solved without someone thinking upon it.Ē
In the Christian life meditation is a vital key to success, and meditation is a process that demands patience. God wants us to learn to think accurately about how to deal wisely in the affairs of life. In order to deal wisely, we should think upon His word day and night. Insights and revelation from Godís word come only through patient, faithful study and meditation. He promises that then we will have success in whatever we do.
Allow others to help you, and help others along the way.
Stand firm
After you have done everything there is to do, there is one more thing you need;;
To "stand firm", waiting on god.
ďWherefore take unto you the whole armor of god, that ye may be able to withstand in the evil day, and having done all to stand.Ē
Patience and persistence will help you to continue pressing towards the mark and to move into Godís best for your life; His reward for those who donít give up.