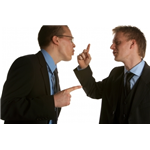 In this world, I sure have come across so many bad attitudes that people have, just if it's about the weather. Attitudes about something they didn't like at the store, or prices or even a person walking across the street.
Our attitudes become a dangerous part of our life, and if you cannot keep them tamed or just plain down right get rid of it, they can become a dangerous weapon.
Bad attitudes, becomes hurtful words, which words can kill, they can kill ones spirit and their whole entire outlook on life itself.
And, when we get an attitude about something it sure isn't pleasing to God, bad attitudes will and can hinder answers from your prayers... just read below!
NEGATIVE ATTITUDES HOW DO NEGATIVE ATTITUDES AFFECT OUR RELATIONSHIP WITH GOD?
You will be surprised at how having bad attitudes towards others, and things happening in our lives can effect Our relationship with God!

Importance: Genesis 4:1-16
KEY BIBLE VERSE: "Why are you so angry?" the LORD asked him. "Why do you look so dejected?" (Genesis 4:6)
NEGATIVE ATTITUDES MAY CAUSE US TO TURN AWAY FROM GOD
The Bible does not say why God rejected Cain's offering. Perhaps Cain's attitude was improper, or perhaps his offering was not up to God's standards. God evaluates both our motives and the quality of what we offer him.

When we give to God and others, we should have a joyful heart because of what we are able to give. We should not worry about how much we are giving up, for everything belongs to God in the first place.

Instead, we should joyfully give to God our best in time, money, possessions, and talents.

Importance: 1 Samuel 8:1-22
KEY BIBLE VERSE: "Look," they told him, "you are now old, and your sons are not like you. Give us a king like all the other nations have." (1 Samuel 8:5)

NEGATIVE ATTITUDES LEAD TO WRONG DECISIONS
Israel was called to be a holy nation, separate from and unique among all others Leviticus 20:26. The Israelites' motive in asking for a king was to be like the nations around them. This was in total opposition to God's original plan.

It was not their desire for a king that was wrong but their reasons for wanting a king. Often we let others' values and actions dictate our attitudes and behavior. Have you ever made a wrong choice because you wanted to be like everyone else?

Be careful that the values of your friends or "heroes" don't pull you away from what God says is right. When God's people want to be like unbelievers, they are heading for spiritual disaster.

Example: Let's say, that your friend or husband or children, comes in and has had a bad day, and they're mad, angry, and just so frustrated you are having a hard time keeping your attitude in a good frame of character. They say things and complain and just don't care type attitude, you get upset, because they just keep on and on. And, then you start getting an attitude right back, this is wrong. God, expects us to show His Loving Kindness and show good attitudes, and let them know that you are there to listen. If we go off the handle and act like they act, then we sure will not bring them to the Lord Jesus Christ that way, you could loose whatever chance you had.

POSITIVE ATTITUDES WHAT ARE THE BENEFITS OF A POSITIVE ATTITUDE?
Importance: Genesis 39:1-23
KEY BIBLE VERSE: After hearing his wife's story, Potiphar was furious! He took Joseph and threw him into the prison where the king's prisoners were held. But the LORD was with Joseph there, too, and he granted Joseph favor with the chief jailer. (Genesis 39:19-21)
POSITIVE ATTITUDES ALLOW GOD TO WORK
As a prisoner and slave, Joseph could have seen his situation as hopeless. Instead, he did his best with each small task given him. His diligence and positive attitude were soon noticed by the jail warden, who promoted him to prison administrator.

Are you facing a seemingly hopeless predicament? At work, at home, or at school, follow Joseph's example by taking each small task and doing your best. Remember how God turned Joseph's situation around. He will see your efforts and can reverse even overwhelming odds.

Importance: Exodus 14:1-14
KEY BIBLE VERSE: But Moses told the people,"Don't be afraid. Just stand where you are and watch the LORD rescue you. The Egyptians that you see today will never be seen again." (Exodus 14:13)
 
POSITIVE ATTITUDES CAN INFLUENCE OTHERS
The people were hostile and despairing, but Moses encouraged them to watch the wonderful way God would rescue them. Moses had a positive attitude! When it looked as if they were trapped, Moses called upon God to intervene. We may not be chased by an army, but we may still feel trapped. Instead of giving in to despair, we should adopt Moses' attitude to "stand firm" and see the deliverance that the Lord will accomplish.

Importance: Ruth 2:1-13
KEY BIBLE VERSE: The foreman replied, "She is the young woman from Moab who came back with Naomi. She asked me this morning if she could gather grain behind the harvesters. She has been hard at work ever since, except for a few minutes' rest over there in the shelter." (Ruth 2:6-7)
POSITIVE ATTITUDES WILL HELP OVERCOME DIFFICULTIES
Ruth's task, though menial, tiring, and perhaps degrading, was done faithfully. What is your attitude when the task you have been given is not up to your true potential? The task at hand may be all you can do, or it may be the work God wants you to do. Or, as in Ruth's case, it may be a test of your character that can open up new doors of opportunity.
WHOSE ATTITUDE SHOULD WE IMITATE?
Importance: Philippians 2:5-11
KEY BIBLE VERSE: Your attitude should be the same that Christ Jesus had. Philippians 2:5
THE BEST POSITIVE ATTITUDE IS ONE LIKE CHRIST'S
Often people excuse selfishness, pride, or evil by claiming their "rights." They think, I can cheat on this test; after all, I deserve to pass this class, or I can spend all this money on myself-I worked for it, or I can get an abortion; I have a right to control my own body.
But as believers, we should have a different attitude; one that enables us to lay aside our rights in order to serve others.
If we say we follow Christ, we must live as he lived. We should develop his attitude of humility as we serve, even when we are not likely to get recognition for our efforts. Are you selfishly clinging to your rights, or are you willing to serve?