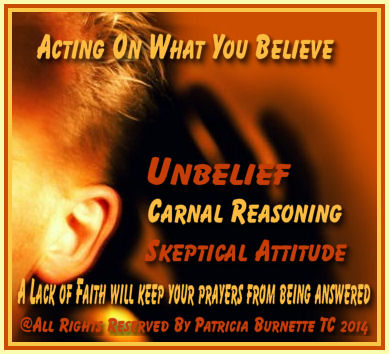 Acting On What You Believe
Unbelief – Nullifies your faith and keeps your prayers from being answered.
Unbelief  -  Is one reason for some people who don't get their answers.
Unbelief  – Also keeps you form receiving the power.
Since the Holy ghost has already been poured out, Christians can have his power operating in their lives, but unbelief often blocks that power and keeps their prayers from being answered.
Unbelief – Keeps Jesus from doing any mighty works.
Unbelief – disables people from getting what they need because of unbelief.
Carnal Reasoning – controls peoples opinions and fills their minds with doubt and unbelief. This causes a Skeptical Attitude.
Believing – Is one of the main keys to getting your prayers answered.
"Jesus said that if you believe, you will receive what you asked him for."
But, believing comes only form the works of faith.
It's easy to say 'I believe that I have received, Hallelujah.'
But when you walk out of the doors of the church, Satan will try to cast doubt in your mind and make you wonder if you have received it or not. So don't allow your faith to waver.
A Lack of Faith will keep your prayers from being answered.
Faith – Gives substance to things hoped for.
Faith -  Provides for things you need.
Faith – Believe that you have received your answers over what you have prayed for.
Hope - Belief that you will receive your answer someday.
Faith – Gives reality to the things you are hoping for.
Faith – Is not 'to be' or 'was', but faith is NOW.
Faith – Is that you believe that you have what you have asked for.
Faith – Comes by hearing and hearing what you have heard. Not hearing with your natural ears, not just listening to a preacher or teacher, but believing what you heard comes form within from Jesus.
Faith – Comes when you hear God speak to you, when He reveals His Son to you. His word to you is His glory to you just as he had shown glory to Moses. And when you hear you will not be able to contain the joy or the glory that comes with it.
As Peter wrote in the Epistle, "We have also a more sure word of prophecy where unto ye do well that ye take heed, as unto a light that shineth in a dark place until the day dawns and the day star rises in your heart".
If you hear, you will also do well to heed.
Keep listening because eventually the truth of God's word is going to dawn on you.
Faith -  Comes by hearing with your heart. If you start taking heed to God's word, you're going to start taking heed to God's word.
Faith – Needs something to stand on and the promises in God's word are a good support. You can establish your prayers on god's word, and His promises and know that he still will answer you.
Faith - Needs to be built on solid foundation of God's word if you expect to whether your storms or problems. Overcoming always involves a battle with Satan and trial of faith.
                                                  Acting on what you believe
Scriptures – Unanswered prayer
Records of Study
Scriptures, Chapters and Verses.
Acts 1:8
Acts 2:1-4
Acts 2:22
Galatians 3:5
Hebrews 11:1-6
Isaiah 53
James 1:2-3, 22
Luke 5:2-11
Mark 6:5-6
Mark 11:24
Mark 10:46-47
Matthew 7:24-27
Matthew 10:1
Matthew 13:58
Matthew 14: 25-31
Matthew 16:13-14
Matthew 17:14-15
Matthew 17:19
Matthew 18:20
1 Peter 2:24
2 Peter 1:18-19
Romans 12:3