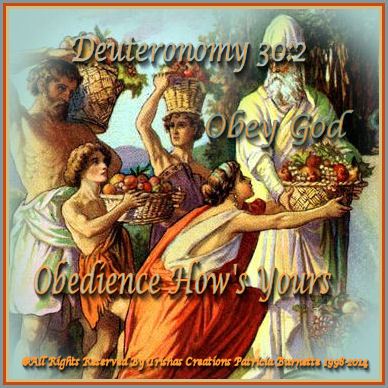 Obedience How's Yours

Obedience, is not to be occasional event of the day, it is to be an everyday event, the way of life. There is a huge difference between people who are willing to Obey God and those who refuse to obey God, and to get out of trouble.

God, shows people how to stay out of trouble, but He showers blessings on those who decide to whole-heartedly for Him and make Obedience to Him, a life-style.

Deuteronomy 30:2, encourages us to always Obey God. To whatever the degree we Obey God. That shows Him we Love Him and Jesus!

2 And shall return to the Lord your God and obey His voice according to all that I command you today, you and your children, with all your [mind and] heart and with all your being.
We have to OBEY GOD in all aspects of our lives, He wants to Bless us and trust in Him... so if He tells you to be a shoulder to cry on, then do it, if He says give something away then do it. He knows what's best for us, we don't!