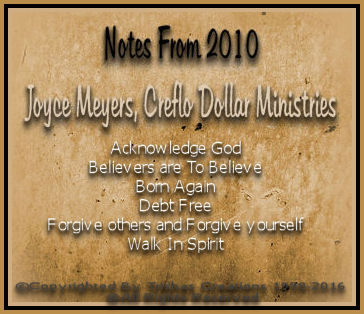 Notes From 2010
Joyce Meyers, Creflo Dollar Ministries
†
These are noted which I have had written down in 2010, they are not in full program but things which I felt important at the time of my watching their programs. Maybe they will help you also.†
Bondage, is a bad habit. We all have a bad habit which we end up using as a crutch in our lives.
We need to talk to God about them for a week spirit filled effort.
1 Timothy 4:8 Spiritual Training & Habits
Seek Godís face first thing in the morning, spiritual food for your spiritual man. Form spiritual habit, believing in God, Trusting in God in everything.
Hebrews 4:3 Believers are To Believe†
Whatís bad is people want to take God out of everything, whatís good is we Need to Put God back in everything, all God wants is for the World to Put Him first. Heís the only one to get us out of this bondage. The devil will take it away and thatís what he is doing today , the devil is trying to rip away what we want and believe in and trust in. Give God, a few hours a day. Trust in God, stop trying to figure everything out. †
Form a habit by trusting in God with all your heart. Listen to our hearts so we can hear Him, hear from God, His word, you donít study, get into the word, without Christ we canít do anything.†
Proverbs 3:5 Creflo Dollar 2/18/2010 Walk In Spirit†
Galatians 5 , Donít walk in the flesh, that are against the spirit and what you know is not of God. Ask, God to help your circumstances sometimes makes us walk in the flesh, walk in the spirit is a way of thinking with the word of God, it allows the word to change our thinking. The Bible will and all the arguments .
Deuteronomy 30:15-18 ďNow listen! Today I am giving you a choice between life and death, between prosperity and disaster.
16 For I command you this day to love the Lord your God and to keep his commands, decrees, and regulations by walking in his ways. If you do this, you will live and multiply, and the Lord your God will bless you and the land you are about to enter and occupy.
17 ďBut if your heart turns away and you refuse to listen, and if you are drawn away to serve and worship other gods,
18 then I warn you now that you will certainly be destroyed. You will not live a long, good life in the land you are crossing the Jordan to occupy.
19 ďToday I have given you the choice between life and death, between blessings and curses. Now I call on heaven and earth to witness the choice you make. Oh, that you would choose life, so that you and your descendants might live!
20 You can make this choice by loving the Lord your God, obeying him, and committing yourself firmly to him. This is the key to your life. And if you love and obey the Lord, you will live long in the land the Lord swore to give your ancestors Abraham, Isaac, and Jacob.Ē
Keeping the Commandments, Godís word thinking the things you say will line up with Godís word, lining up with your perspective. The Bible is the truth, the world wants to discredit you and the word. Make a choice to walk in the spiritual power, word, results and blessings for your success in your life around you, with you and life and Presence of God, the eternal life.†
Forget your Part?
Flesh ĖĖ nothing you become cursed. No power fits nothing works, keep trying, it spoils wonít work, you are deceiving yourself, when you live life without God. Curse without the blessing. A curse is on you for a reason, nothing works. Separation from God Ė Choose the Spirit to be blessedĖ walk in the flesh to be or stay in the curse. Your mind is infected, power, word, light, blessing and spirit.†
Romans 12:2 Born Again New Living Translation (NLT)†
2 Donít copy the behavior and customs of this world, but let God transform you into a new person by changing the way you think. Then you will learn to know Godís will for you, which is good and pleasing and perfect.
Pray, recognizing the word, renew your mind. Train your mind, change your way of thinking,† gluttony is the power of the words, tongues, taste. You fail to renew the mind you will fail constantly. Read the word we are all one in Christ. Donít think higher than you are. Think in line with the Word of God.†
Forgive others and Forgive yourself.2/19/2010
Donít Try to Hear From God if you donít know the word. You have to know the word to hear from Him. Itís given to you. Seek the word , get mind renewed.
Get the fruit of the spirit. Peace, sense it in your heart, feel right about it. God, comes to us, He puts His spirit in us. When He talks to you, you will know it.
Hebrews 4:12 New Living Translation (NLT)†
12 For the word of God is alive and powerful. It is sharper than the sharpest two-edged sword, cutting between soul and spirit, between joint and marrow. It exposes our innermost thoughts and desires. †
Do what the word says, become active. Form a habit to study the word. You have the power of the unwise inside. Habits, acknowledge in all your ways. Ask for His help. Let Him in everything, you will know if itís God, in your gut. Discernment.
Proverbs 3:5-7 New Living Translation (NLT)
5 Trust in the Lord with all your heart; do not depend on your own understanding.
6 Seek his will in all you do, and he will show you which path to take.
7 Donít be impressed with your own wisdom. Instead, fear the Lord and turn away from evil.
Acknowledge God in all you do, Habit of Peace,
John 14:17 New Living Translation (NLT)†
17 He is the Holy Spirit, who leads into all truth. The world cannot receive him, because it isnít looking for him and doesnít recognize him. But you know him, because he lives with you now and later will be in you.
Donít let yourself be troubled. You can form good habits with God.†
Colossians 3:15 New Living Translation (NLT)†
15 And let the peace that comes from Christ rule in your hearts. For as members of one body you are called to live in peace. And always be thankful.†
Make a final decision God will help you. The holy spirit gives us peace, pray and want it. Righteous, peace, joy , trust God no matter what. God gives you peace. Do not let anger get a foot hold on you. Just trust in God, if you canít change me, I cant change me.†
Habit of No To You Yes To God
Romans 8:13 New Living Translation (NLT)†
13 For if you live by its dictates, you will die. But if through the power of the Spirit you put to death the deeds of your sinful nature, you will live.†
Make the right choices, and your mind will train itself and your flesh will learn to heed to your renewed mind, it will do this automatically. Say no to yourself. The flesh will loose itís power over you when the flesh wants to sin, make a form of behavior.†
Joyce Meyer 2/21/2010†
Debt Free †
God wants us to be the head and not the tail. God watches us with our money, before he gives more money to us. †
Luke 18:11 New Living Translation (NLT)†
11 The Pharisee stood by himself and prayed this prayer ĎI thank you, God, that I am not a sinner like everyone else. For I donít cheat, I donít sin, and I donít commit adultery. Iím certainly not like that tax collector!†
God , is on my side, I am not going to live like satan.† Bob Cats, 2000 Verses in Bible about Money.
DO NOT CRAVE MONEY †
1 Timothy 6:9-10 But people who long to be rich fall into temptation and are trapped by many foolish and harmful desires that plunge them into ruin and destruction.
10 For the love of money is the root of all kinds of evil. And some people, craving money, have wandered from the true faith and pierced themselves with many sorrows.†
The love of money is evil, a person who keeps wanting more and more money is being greedy and evil. Keep promises, keep your eyes on God. Learn to be content with what has been given to you. God will test you, maybe a few years down the road , but you manage it well, then God will give you more. †
Give to God. Donít despise of small beginnings. Donít despise people who have it. You get tested on all levels. God moves you up. Much is given, much is required. People are hurting, placing a smile on their face your face, use to help others, you donít need to hoard money. Help otherís, give to ministries, or help someone with something which they need help with. †
God, will make sure you have and will be blessed in return.
Luke 12: 15 Then he said, ďBeware! Guard against every kind of greed. Life is not measured by how much you own.Ē†
Donít covet, not want what someone else has.†
Matthew 25:23 The master said, ĎWell done, my good and faithful servant. You have been faithful in handling this small amount, so now I will give you many more responsibilities. Letís celebrate together!í†
Take good care of what you have, I am going to sow seeds into God and His kingdom.†
Manage Well What you Have Now†
Proverbs 28:7-8,16 Young people who obey the law are wise; those with wild friends bring shame to their parents.
8 Income from charging high interest rates will end up in the pocket of someone who is kind to the poor.†
16 A ruler with no understanding will oppress his people, but one who hates corruption will have a long life.†
You are to give to the poor, we are to store our treasures up in Heaven.
Matthew 25:27 why didnít you deposit my money in the bank? At least I could have gotten some interest on it.í†
Matthew 25:23 The master said, ĎWell done, my good and faithful servant. You have been faithful in handling this small amount, so now I will give you many more responsibilities. Letís celebrate together!í†
Proverbs 22:7 Just as the rich rule the poor, so the borrower is servant to the lender.†
Borrowers always pays the under people, the ones who live away and above their means. Work, save, give, spend, give your tithes before you spend. Write them down, then you start paying them off, take payments to each one from being paid off to pay others off.†
2/24/2010 Joyce Meyer†
1 Timothy 6
God, wants us to be a blessing, Money as we mentioned before is a test. Sacrifice Reveals a character. Money Reveals how we love God. Money we are to use it wisely. Donít expect money, if you donít respect it.†
More money, you will have you must give from it freely and the more money you have, you have the time to spend it.†
Luke 18:18-22 The Rich Man†
18 Once a religious leader asked Jesus this question: ďGood Teacher, what should I do to inherit eternal life?Ē†
19 ďWhy do you call me good?Ē Jesus asked him. ďOnly God is truly good."
20 But to answer your question, you know the commandments: ĎYou must not commit adultery. You must not murder. You must not steal. You must not testify falsely. Honor your father and mother.í†
21 The man replied, ďIíve obeyed all these commandments since I was young.Ē†
22 When Jesus heard his answer, he said, ďThere is still one thing you havenít done. Sell all your possessions and give the money to the poor, and you will have treasure in heaven. Then come, follow me.Ē†
If, you donít do what God asks you to and handle it and gave it to you, then you canít be trusted with it. If, God says, ďGive it ď then ďGive it. Let go, of what God says, He never takes from you, God will not let you do without.†
Look of ways to give to others. Stop not wanting to give help to others, and give to churches, and ministries. If, you donít give it God wonít give it to you. He wants, to take us to the next level. Donít murmur about it, give it cheerfully. †
What is possible for God, it is possible for you as well. If, you give up, you will receive the reward from heaven, you again donít give to God then God will limit you.†
2 Samuel 22:25 New Living Translation (NLT)†
25 The Lord rewarded me for doing right. He has seen my innocence. †
Real giving you have to fill it. God will ask you to give up something which makes you feel it. Act when you donít have and how you act when you have it. What you do for someone, God will let it happen for you. Donít give up what God has for youÖ God speaks to you! †
Are You Listening!!!†