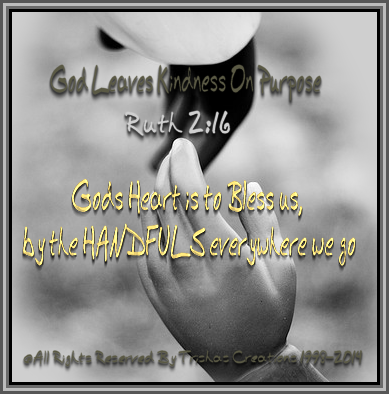 God Leaves Kindness On Purpose
Ruth 2:16


In the Book of Ruth we have read, how Boaz which was a kin to Naomi, with the kindness of Ruth to Naomi God spoke to Boaz.

Boaz was the owner of the field which Ruth was gleaning from, Boaz was the richest man in the country. God led, Boaz to leave handfuls of grain for her on purpose. Read Ruth 2:16

That's just like today, there are so many people who sow hatred and anger, and they seem to forget if they show kindness and love to other's, God will put some kindness in their way on purpose.

So many people in the world sow hatred and anger they act like everyone they come across owes them something and that they don't have a way out of their circumstances. But, they actually do, if they would stop sowing hate and anger, and bitterness because of their hardships, and start thanking God for what they have and the tests and trails they are going through , God would send someone their way to give love and kindness to them.

If, we can just get past our own hurts and circumstances and stop the anger and hate we can be like Ruth and what Boaz did through God to show his kindness. So many are so wrapped up in their anger and hate for other's they loose sight what could happen if they rid themselves of it.

If, we can be kind to people everywhere we go, we will find kindness in handfuls which, God left us along our way. We reap what we sow, and so if we reap and sow kindness we shall reap it with handfuls.

But, if we sow hatefulness and anger then so we shall reap just what we dish out.

God's heart is to bless us, by the "HANDFULS" everywhere we go, so watch out, be kind loving to everyone–– and you will see your harvest of kindness reap in your lives!