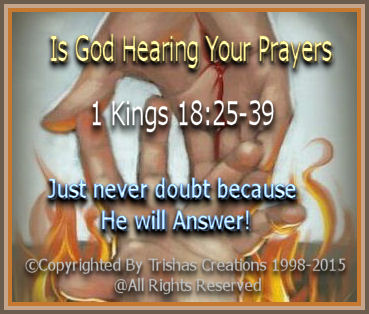 Is God Hearing Your Prayers
1 Kings 18:25-39
†
I get told many times that God doesnít care, and He isnít listening that Heís not going to heal me and Heís not going to do this, only that etc.
If, you are in doubt and not using Godís promises well Iím sure itís being delayed. All it takes is a grain of mustard seed of faith.
Not like the prophets of Baal they were praying to a God, that didnít hear their prayers. But, we have a God that is real, Heís alive and He hears every prayer we pray. If, we doubt or just because our prayers all not answered right when we think they should be ĖĖ doesnít mean God is not hearing us when we pray ĖĖ because He does.
The God of Baal ĖĖ they never get an answer to anything they asked, But Our God we can count on!
God, doesn't work in our timing, HE WORKS IN HIS! We have to keep in faith because "Faith is what pleases GOD" how can He work in your life if, we cannot trust Him enough to do what we want Him to do? There are things which we may have to go through in order for God to get things ready and prepared for our miracle to take place, just hang on!
Just never doubt because He will Answer!!!