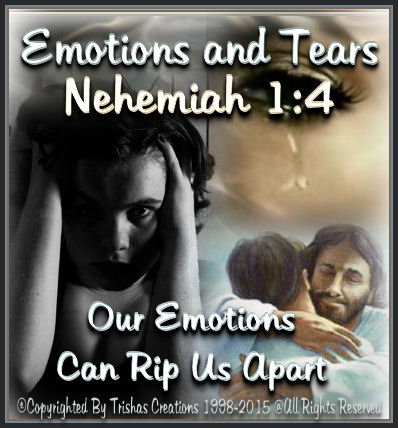 Emotions and Tears
Nehemiah 1:4
You know there were times in my life I would to hold my emotions in and my tears. Because of always wanting to be strong. But, over the years I have been so weak and they would come out, some would be of anger because of what was done to me or said, some would be because I was mourning or in pain.
Our, emotions can sometimes tear us apart and we end up loosing our ground. But, if you read Nehemiah 1:4, you will see that even Nehemiah was not afraid of emotions, he wept unshamefully.
Some people as I used to be, because of my wanting to be strong for my family , refused to weep or show any outward emotions.
Found out, through Joyce Meyers, and a few others this isn't and wasn't a healthy decision. Our emotions have to be released, we shouldn't pin them up inside.
We have to learn how to handle "Our Emotions" and sometimes it is very hard, but if we ask the Lord Jesus to help us, He will indeed help us and He will give us comfort when we are in need. Never, begin to lash out because your emotionally stressed, because what we say can even cause more stress not just to ourselves but also, to other's which we love.
When we hold them inside they become very powerful , we need to release them at the right times, because they will eat us away, from the inside out.
Nehemiah, released his at the right time when he heard that the walls of Jerusalem had been destroyed. God, has given us tear Glands and the ability to cry, and it must mean we will have times in our lives when we have to weep like Nehemiah had to.