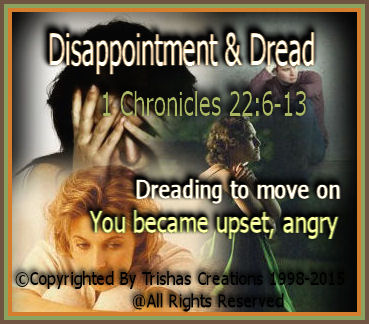 Disappointment & Dread
1 Chronicles 22:6-13
I am sure through the years many have felt dread of some sort, and disappointments in some part of their lives they have them. Whether it be through someone who got promoted at work and you didn't or someone got a new car and you couldn't, maybe new furniture and you wasn't able to, etc.
You became upset, angry, frustrated and even a bit jealous because you wasn't able to do or get all those things, that someone else did.
You start feeling like you just want to give up, refuse to go around them, you dread talking to them you just dread doing anything.
Instead, of feeling disappointment, upset, frustrated be happy for them, pray and give thanks for them and the blessings which they received. This could cause your blessings to be delayed if, you are full of resentments and jealousy.
Dreading to move on, doing what God wants you to do for Him, delays what He has for you. Never go overboard and dread to do anything, just because whether you know it or not, God isn't dreading your blessings –-but they may be delayed until you get over your dread, frustration, and your upsets and jealousy.
Always go forward and be happy for those who has been blessed because they are doing what God has them doing –– never be angry because that is sinning and sinning delays the Blessings!!