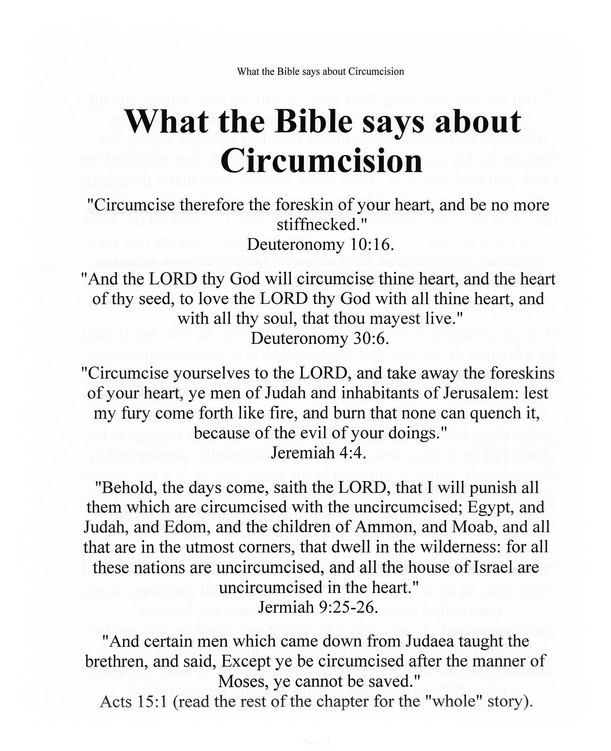 Why Circumcision
Genesis 17:10-14

When God entered into a covenant with Abraham. He told him to circumcise every make 8 years and older including himself. (Genesis 17:10-14)

Blood was shed, but it's referred to as: "The Fountain of Life." Which the place from which the seeds fear the future generation would come from - and the circumcision was a sign there was a covenant between God and Abraham.
10 This is my covenant, which ye shall keep, between me and you and thy seed after thee; Every man child among you shall be circumcised.

11 And ye shall circumcise the flesh of your foreskin; and it shall be a token of the covenant betwixt me and you.

12 And he that is eight days old shall be circumcised among you, every man child in your generations, he that is born in the house, or bought with money of any stranger, which is not of thy seed.

13 He that is born in thy house, and he that is bought with thy money, must needs be circumcised: and my covenant shall be in your flesh for an everlasting covenant.

14 And the uncircumcised man child whose flesh of his foreskin is not circumcised, that soul shall be cut off from his people; he hath broken my covenant.

Blood is a powerful element, and because of the blood is life and becomes a part of life. (Leviticus 17:4)

When anything is covered by blood, it's God way of looking at it as covered with life and it is cleansed.

When we receive Jesus as Our Savior, we are indeed covered by His blood, and God sees us in a clean and pure way before him.

Romans 4:11 ESV He received the sign of circumcision as a seal of the righteousness that he had by faith while he was still uncircumcised. The purpose was to make him the father of all who believe without being circumcised, so that righteousness would be counted to them as well.
Philippians 3:3 ESV For we are the circumcision, who worship by the Spirit of God and glory in Christ Jesus and put no confidence in the flesh—
Colossians 2:11 ESV In him also you were circumcised with a circumcision made without hands, by putting off the body of the flesh, by the circumcision of Christ