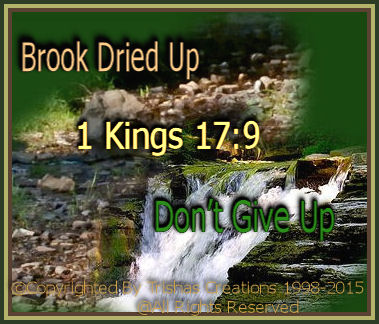 Brook Dried Up – Don't Give Up
1 Kings 17:9
Some people think that when the door closes, that God doesn't want them to succeed and is done with them. When they had the doors opened for a long time then they have been shut.
Their brook has become dry – if you have read 1 Kings 17:9, about God sending Elijah to Zarephath, not due to being for Elijah, but for the widow, God wanted to do something in her life.
God, sends us into circumstances and situations not only for us to learn something, but…. For someone else's benefit. God, needs people who believe in Him trust in Him to be there to help and work through someone's life.
This keeps our brooks – filled and also, keeps our doors open for Blessings from God to be poured down, not only on the ones He sends us to, but in our lives to.
God, does this in my life, He has placed certain ones in my path, or has placed me in theirs, He has made a way or reason for me to move back to Alabama not only because of my brook, but because of my mother– to be here for her –– because she needs me to help her, and God to move in our lives!
After, all the kids my mother raised I am the only one who loves her and cares about her enough to do all I can to help her and be here for her, through all her ups and downs, her happy times and her sad times. There's a reason for everything, and God knows those reason's.
God, has blessed me so much, and He has given me His grace His mercy, He has kept us going, because He loves me and I love Him, He has saved me from many things I have been through in my life, and those things happened in my life for a reason. I have been through so much and my brooks dried up many times, be can, but God has allowed them to flow again. I trust in God, and I believe in Him and you should to as well.
Some in my family cannot see how we make it, how we have what we have. Some think we are rich, but we aren't, it's God, God blesses us, He takes care of us, why???
Because we do all we can to be there for other's, we try to do all we can but our Main SOURCE is GOD!!!
God keeps our brooks filled –up, He always makes sure there is a door opened for blessings to be poured in and down. I am always going through ordeals that happen with me, my husband, my family, I make sure I keep my eyes on the Beholder –– GOD, because without Him I am nothing, and not able to be all He made me to be!!
When the brook dries –– up it doesn't necessarily mean you've done wrong. It more than likely means, God needs you to do something else or be in another place.
Always, remember when one door closes –– God will open another door, just be patient and willing!