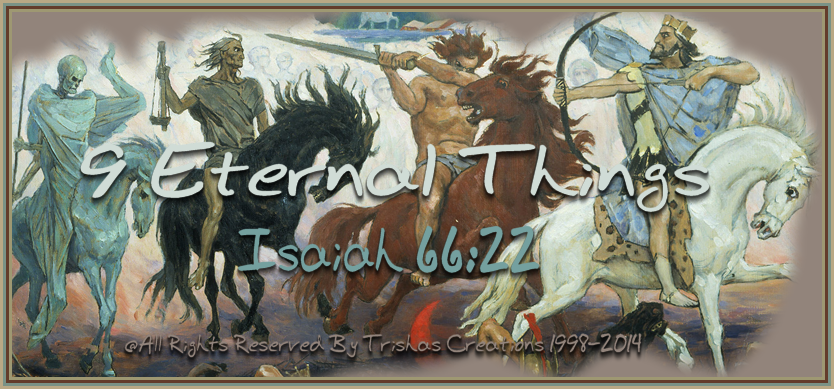 9 Eternal Things
Isaiah 66:22
As, I have mentioned before it is just "Amazing" at what all you will find out by reading the Bible, there is so much to learn and read about. The Bible is GOD'S WORD, and we should all want to read it. There is, scriptures that will enlighten you, help you understand God's Love for you, there is Scriptures which will guide you in the way you should go.
The Bible is our "LIFE LINE" it is the WORD of GOD, that we should all hold close to our hearts because this helps us grow in Him and know what happened in Jesus' day and what is going to happen. Everything that happened then happens now, and we should read and follow the Bible and it's examples.
9 Eternal Things
The New Heavens .....................Isaiah 66:22

The New earth

The Seed of Israel

The Name of Israel

The New Moons .......................Isaiah 66:23

Sabbaths

All Flesh

Eternal Hell and Punishment ......Isaiah 66:24

Men Being Permitted To Work on carcasses of those who have transgressed
These are about the "Second Coming" the "End of The World" as we know it. I hope the verses / scriptures help you! If, you are not ready to meet Jesus Christ, please do so now, you can repent of all your sins, just ask Him to forgive you and to come into your heart and save you. Ask Him to show you all you need to do and to do for Him. There is so much we can do for Jesus Christ, and winning souls! God Bless You! Sinners Prayer 1 and here's another one Sinners Prayer For You
God Bless You in all ways God has for you!