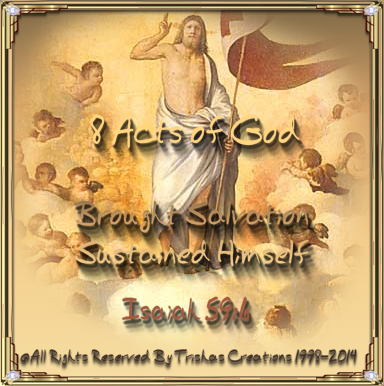 8 Acts of God
Isaiah 59:6

We have seen other "Acts of God" and I have listed "8 More Acts of God"! Isn't it amazing how many things God has created and done!! I have seen so many things in the Bible that God has done, created, blessings, miracles it makes the Bible interesting to read and fun.
If, you read carefully you can actually see the events which happened in the  Bible days (Jesus' Days) in your mind while you are reading the Bible.
I hope these "8 Acts of God" helps you as I pray the other's did also!
8 Acts of God
He Saw No Man .............................Isaiah 59:16

Wondered why there were No Intercessors

Brought Salvation

Sustained Himself

Put on Righteousness as a Breast plate ......................Isaiah 59:17

Put on a Helmet of Salvation

Put On Garments of Vengeance

Clad Himself with Zeal (Jealousy) as a Cloak