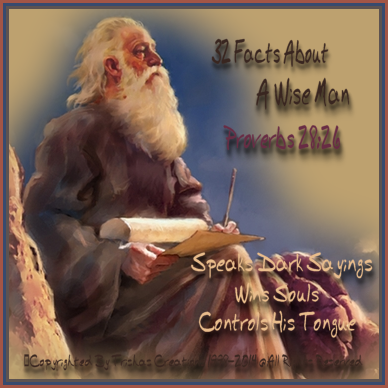 32 Facts About A Wise Man
Proverbs 28:26
The Bible says "Wisdom" will saves us from our own ways. We should all carry Wisdom and use it like we should. Having Wisdom makes us make the right decisions in life and to better our lives and ourselves.
I have listed 32 Facts About A Wise Man, and I hope with the scriptures they will help you along your way to find Wisdom!
The Bible also says, if we trust in ourselves we become fools !
Proverbs 28:26 ---  He that trusteth in his own heart is a fool: but whoso walketh wisely, he shall be delivered.
32 Facts About A Wise Man
1.
Hears And Increases Learning
 
Proverbs 1:5
2.
Attains to Wise Counsel
 
Proverbs 1:5
3.
Speaks Dark Sayings
 
Proverbs 1:6
4.
Inherits Glory
 
Proverbs 3:35
5.
Appreciates Correction
 
Proverbs 9:8, 17:10
6.
Receives Instruction
 
Proverbs 9:9, 21:11
7.
Makes Parents Happy
 
Proverbs 10:1, 15:26
8.

 

Provides for The Future
 
Proverbs 10:5, 21:20
9.
Welcomes Commandments
 
Proverbs 10:8
10.
Lays Up Knowledge
 
Proverbs 10:14
11.
Controls His Tongue
 
Proverbs 10:19, 29:11
12.
Rules Others
 
Proverbs 11:29, 17:2
13.
Wins Souls
 
Proverbs 11:30
14.
Listens To Counsel
 
Proverbs 12:15
15.
Speaks Health
 
Proverbs 12:18
16.
Obeys Parents
 
Proverbs 13:1
17.
Walks With Wise Men
 
Proverbs 13:20
18.
Stays out Of Trouble
 
Proverbs 14:3
19.
Departs from Evil
 
Proverbs 14:16
20.
Appreciates and Rightly Uses Riches
 
Proverbs 14:24
21.
Receives Favor
 
Proverbs 14:35
22.
Uses Knowledge Rightly
 
Proverbs 15:2 ,7
23.
Seeks Eternal Life
 
Proverbs 15:24
24.
Pacifies Anger of Others
 
Proverbs 16:14, 29:8
25.
Learns Many Valuable Lessons
 
Proverbs 16:23
26.
Holds His Peace in Strife
 
Proverbs 17:28
27.
Seeks Knowledge
 
Proverbs 18:15
28.
Rejects Intoxicants
 
Proverbs 20:1
29.
Puts Down Crime
 
Proverbs 20:26
30.
Wins Wars
 
Proverbs 21:22
31.
Has Great Power & Strength
 
Proverbs 24:5
32.
Obeys The Law
 
Proverbs 28:7