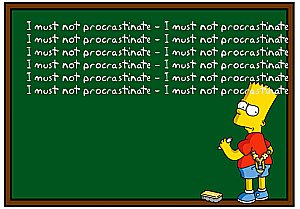 "2 Main Excuses of The Procrastinators"
 
Procrastination is the practice of carrying out less urgent tasks in preference to more urgent ones, or doing more pleasurable things in place of less pleasurable ones, and thus putting off impending tasks to a later time.
Procrastination may result in stress, a sense of guilt and crisis, severe loss of personal productivity, as well as social disapproval for not meeting responsibilities or commitments.
1.Some other day, I have plenty of time ...............
Proverbs 27:1--- Boast not thyself of to morrow; for thou knowest not what a day may bring forth.
Proverbs 29:1--- He, that being often reproved hardeneth his neck, shall suddenly be destroyed, and that without remedy.
Isaiah 55:6 --- Seek ye the Lord while he may be found, call ye upon him while he is near.
Luke 12:20 --- But God said unto him, Thou fool, this night thy soul shall be required of thee: then whose shall those things be, which thou hast provided?
2 Corinthians 6:2 ---  (For he saith, I have heard thee in a time accepted, and in the day of salvation have I succoured thee: behold, now is the accepted time; behold, now is the day of salvation.)
Hebrews 2:3 ---  How shall we escape, if we neglect so great salvation; which at the first began to be spoken by the Lord, and was confirmed unto us by them that heard him;
Hebrews 3:15 ---  While it is said, To day if ye will hear his voice, harden not your hearts, as in the provocation.

2. I am too young to be a Christian ....................
Ecclesiastics 12:1 --- Remember now thy Creator in the days of thy youth, while the evil days come not, nor the years draw nigh, when thou shalt say, I have no pleasure in them;
Ecclesiastics 12:13 ---  Let us hear the conclusion of the whole matter: Fear God, and keep his commandments: for this is the whole duty of man.

Ecclesiastics 12:14 For God shall bring every work into judgment, with every secret thing, whether it be good, or whether it be evil.
Proverbs 8:17 ---  I love them that love me; and those that seek me early shall find me.
Matthew 18:3 ---  And said, Verily I say unto you, Except ye be converted, and become as little children, ye shall not enter into the kingdom of heaven.
2 Corinthians 6:2 ---  (For he saith, I have heard thee in a time accepted, and in the day of salvation have I succored thee: behold, now is the accepted time; behold, now is the day of salvation.)