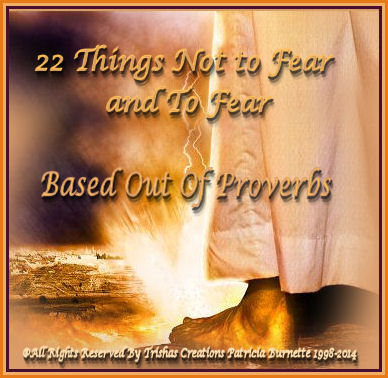 22 Things Not to Fear and To Fear
Based Out Of Proverbs

I thought this may help other's also, knowing what we should have fear for and the things we shouldn't have fear with.
The Bible is full of so many things which help us, and God knew this before hand. He knew we would need guidelines and steps along our way to help us get through those times in our lives, which we would need some extra help.
I know, sometimes there are times when we fear things maybe we shouldn't but there are times when we need to know what and which we are to and not.
So, I am in hopes the scriptures and verses below will help you in understanding hwat we should and not fear.
22 Things Not to Fear and To Fear
 

5 Things Not To Fear

 
 
 
 
1.
Man

Matthew 10:26-31
Exodus 3:9

2.
False Gods

Judges 6:10
1 Samuel 17:36

3.
Reproach of Men
4.
Sudden Fear
5.
Persecutions
 
 
 
 

5 Things To Fear

 
1.
God

Leviticus 19:14
Matthew 10:28
Luke 12:5

2.
God's Name
3.
Parents
4.
Hell
5.
Evil
 
 
 
 

12 Benefits of The Fear of God

 
1.
Beginning of Wisdom
2.
Departure from Evil
3.
Hatred of Evil
4.
Prolonging of Life
5.
Strength of Confidence
6.
Fountain of Life
7.
Instruction of Wisdom
8.
That Which Tends to Life
9.
Riches, Honor, and Life
11.
Freedom from Envy
12.
Prosperity

Ecclesiastics 8:12
Isaiah 33:6

13.
Humility