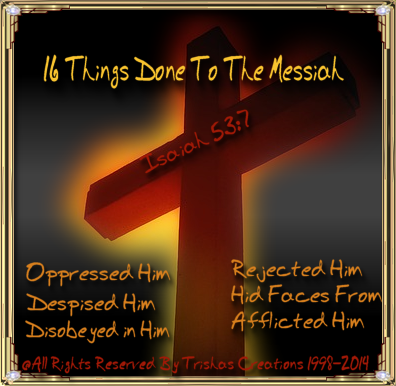 16 Things Done To The Messiah
Isaiah 53:7
Through many hardships--- Those who commit themselves to Christ's Lordship and who will finally enter the Kingdom of Christ must suffer, many hardships along the way. Living in a Hostile World, they must engage in spiritual warfare against sin and satans power.
Suffering For Jesus is something anyone should be glad to do. As Jesus suffered way much more than we can imagine.
Suffering in bad health, or something else in our lives, is really minor compared to what "Jesus DID for You and Me!"
I have listed "16 More Things Done to The Messiah (Jesus)" so I am in hopes once again that they will help you see just what all He went through compared to what we go through here on earth.
16 Things Done To The Messiah
| | | | |
| --- | --- | --- | --- |
| 1. | Marred His Visage |   | Isaiah 52:14 , 53:2-3 |
| 2. | Marred His Form |   | Isaiah 52:14 |
| 3. | Disobeyed in Him |   | Isaiah 52:1 |
| 4. | Despised Him |   | Isaiah 53:3 |
| 5. | Rejected Him |   |   |
| 6. | Hid Faces From Him |   |   |
| 7. | Esteemed Him of No Value |   |   |
| 8. | Esteemed Him ad Suffering Justice for His Own Crimes |   | Isaiah 53:4 |
| 9. | Went Astray from Him |   | Isaiah 53:6 |
| 10. | Ignored Him and Went Own Ways |   |   |
| 11. | Oppressed Him |   | Isaiah 53:7 |
| 12. | Afflicted Him |   |   |
| 13. | Slew Him In Anger |   | Isaiah 53:7-8 |
| 14. | Took Justice From Him |   | Isaiah 53:8-9 |
| 15. | Buried Him with The Wicked |   | Isaiah 53:9 |
| 16. | Classed Him As A Criminal |   | Isaiah 53:12 |
|   |   |   |   |