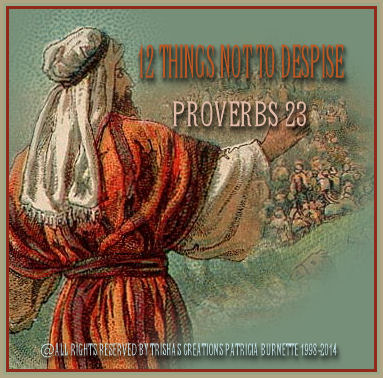 12 Things Not To Despise
Proverbs 23
So many people despise the good things, but love the bad... that just doesn't make sense to me at all.
The most precious things we could and are supposed to adore are the gifts which God blesses us with.
I have listed 12 Things Which we Are NOT to Despise, and there are scripture verses to help you along your way to understanding and seeing the things which we are to Love and Adore!
12 Things Not To Despise
1. Old Mother
 
2. Chastening of the Lord
 

Proverbs 3:11
Job 5:17
Hebrews 12:5

3. A Hungry Thief
 

Proverbs 6:30
Deuteronomy 23:24-25

4. The Word
 
5. Neighbors
 
6. Parental Instruction
 
7. Children and Believers
 
8. Weak Christians
 
9. Prophecies
 
10.Youth
 
11.Masters
 
12.Ministers