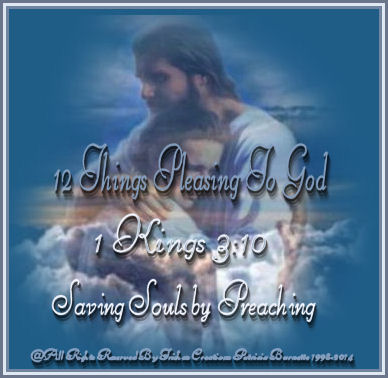 12 Things Pleasing To God
1 Kings 3:10
When we accept Jesus Christ into our lives, it is important to do all we can the best we can to Please Him. I have done some research on the things which Pleases God and I have listed them below.
When we Please God, He becomes happy with us, because we are doing His will, the things He wants us to do. I am not perfect but I am just like everyone else, who is struggling still with things, but I am doing my best to do all I am to be doing and acting the way I am to act.
So, I am in hopes that these "12 Things Pleasing To God" helps you along your way! God Bless You and Keep You!
12 Things Pleasing To God
| | | |
| --- | --- | --- |
| 1. | That Israel was Blessed | |
| 2. | Israel was His People | |
| 3. | Solomon's Prayer | |
| 4. | Bruising of the Messiah | |
| 5. | Messiahs Life and Mission | |
| 6. | Saving Souls by Preaching | |
| 7. | Setting Members In Church | |
| 8. | Resurrection of The Dead Bodies | |
| 9. | Separation of Paul | |
| 10. | All Fullness Dwelling in Christ | |
| 11. | Enochs Life and Faith | |
| 12 | Sacrifices of Praise | |
|   |   |   |