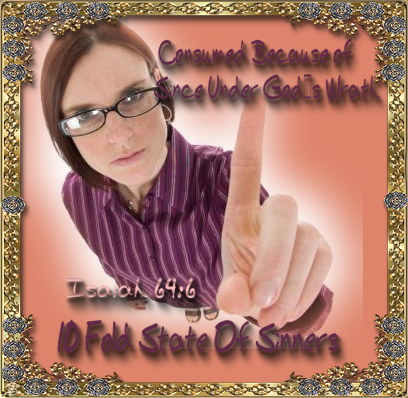 10 Fold State Of Sinners
Isaiah 64:6
Didn't know that there is so many sins, and things we shouldn't do or say, or be a part of. But, wow there is so much that is considered a sin.
So much that we shouldn't do and should stay away from.
Things which are considered a sin, many people have committed and I kind of feel like I cannot get it right no matter which way I try, but I know one thing for sure.... God, is here to help me and He is here to save me, and guide me along my way.
I have listed "10 Fold State Of Sinners" and I do hope this example will help you in a way that helps you read the scripture and see what it says, for you.
10 Fold State Of Sinners
| | | |
| --- | --- | --- |
| 1.†We Have Sinned | † | Isaiah 64:5 |
| 2.†Unclean, Ceremonially and Morally | † | Isaiah 64:6 |
| 3.†All Righteousness are a Filthy Menustrous rags | † | † |
| 4.†Fade as a Leaf | † | † |
| 5.†Taken Away by Sins like the Wind takes away Chaft | † | † |
| 6. None Calls Upon Godís Name† | † | Isaiah 64:7 |
| 7.†None Stirs Himself to take Hold of God | † | † |
| 8.†Godís Face Hidden from Him | † | † |
| 9.†Consumed Because of Since Under Godís Wrath | † | Isaiah 64:5,9††††††† |
| † | † | † |