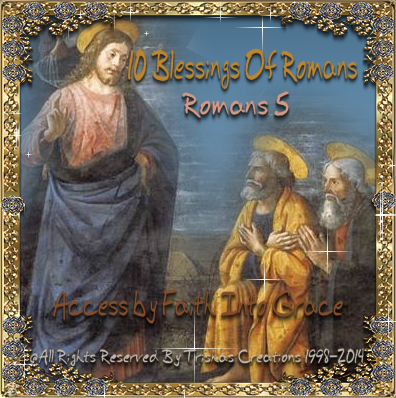 10 Blessings Of Romans
Romans 5
As you can see through out this website, there is many blessings which were in the Bible Days, and they count for us today!
I have listed "10 Blessings Of Romans" below and they also, have the Reference Verses for you to use.
There is so much a person can learn in the Bible if they read it and focus on what it says things that we today can claim, if we just do it.
So, many heartaches and turmoil going on and we can limit it by focusing on God's Word, and doing what it say. I pray this helps you and guides you into better focus of what some of our Blessings are even in today's world!
"10 Blessings Of Romans"
| | | |
| --- | --- | --- |
| 1. Justification |   | |
| 2. Peace With God |   | |
| 3. Access by Faith Into Grace |   | |
| 4. Standing In Grace |   | |
| 5. Joy In God |   | |
| 6. Grace In Tribulation |   | |
| 7. Love of God In The Heart |   | |
| 8. The Holy Ghost |   | |
| 9. Salvation from Wrath |   | |
| 10.Reconciliation by The Blood |   | |
|   |   |   |